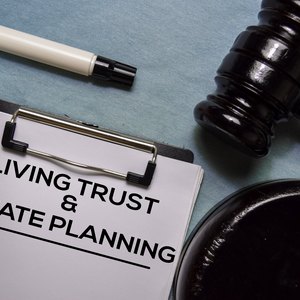 •••
syahrir maulana/iStock/GettyImages
Living trusts are trusts that are created and active during the grantor's lifetime. You become the grantor when you create a living trust and transfer assets into it for your beneficiaries. This legal document enables you to control the assets when you are alive if the trust is revocable. You can name a successor trustee to oversee management of the assets after you die or if you become incapacitated.
Most living trusts are revocable. You can change its terms during your lifetime. You can even transfer its assets back to yourself and shut down the trust.
The number one reason you should create a living trust is to enable the beneficiaries to get access to your assets after you die without them having to undergo the probate process. But doing so doesn't usually come cheap.
Creating a Living Trust
The cheapest way to develop a living trust and save yourself a lot of money in the process is to create one yourself. Professionally-created print or electronic living trust guidebooks are available to walk you through the steps of creating a living trust without the aid of estate attorneys.
Always follow the living trust creation guidelines exactly as instructed and contact a professional if you decide to proceed without legal help or have questions about a complicated situation.
Why Set Up a Living Trust Yourself?
The cost to set up a living trust is about $2,500 upfront. But creating a trust can be a simple process for most middle-class people with average incomes and straightforward family circumstances. Most do-it-yourself living trust books and software cost less than $100.
Even if you begin creating a living trust yourself but later require the help of an attorney, it can help a great deal to become acquainted with the process ahead of time. You'll at least understand the basics of creating a trust and will have a clearer idea of your estate planning goals.
Types of Trust Creation Help
Numerous law-related websites sell living trust guidebooks and do-it-yourself living trust forms, often with money-back-guarantees if you aren't satisfied. Always make sure that the guidebook and forms are valid for use in your specific state and that you're buying the most current version.
You can also create a living trust online by using the available will and trust software tools. Most of these tools include prompts to help you provide relevant information, such as your name and email address, which will be used to create the living trust document.
Do You Need a Lawyer? A Probate Process?
Paying a lawyer to create a living trust is a worthwhile investment if you have a complicated situation, such as an estate worth millions of dollars or if you have a disabled dependent who will need to survive on your estate's proceeds after you die. But you probably don't need a living trust at all if your estate is small and you don't own a lot of property.
There would be no need for a probate process if you designate your loved one as the beneficiary of your assets with the instructions for them to be payable-upon-death. It may not be necessary to create a living trust to bypass the probate process in this case. The same would apply if you co-own assets with someone else with rights of survivorship.
How to Proceed
Creating your own living trust is the cheapest way to save money on estate fees before and after your death. A living trust avoids the expense and time of a probate process by quickly transferring specific property at your death to those people or organizations you've designated as beneficiaries.
One of the first things you should do before buying a do-it-yourself living trust kit is decide what property you want transferred into the trust and who will inherit these items.
References
Writer Bio
Rene Agredano is a traveling journalist and entrepreneur based in Fort Collins, Colo. Since 1998, she has covered travel, home-and-garden, fitness, animal care and other lifestyle topics for publications such as "The Times-Standard" newspaper of northern California. Agredano holds a Bachelor of Arts in English from Chapman University.