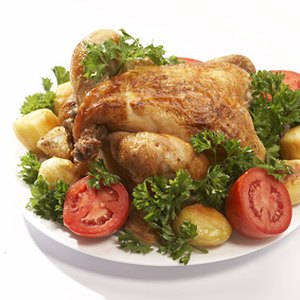 •••
roasted chicken #2 image by AGphotographer from Fotolia.com
Recession-friendly dining does not have to be difficult. It is possible to eat like a king even when you are on a shoestring budget. The key is knowing how to make the most out of your meal. There are many money-saving dishes that don't scrimp on flavor.
Beans
A one pound bag of beans rarely costs more than $2 and it only takes half that to feed a family of four. Beans are full of fiber, so they fill you up and satisfy you as well. They are versatile enough to be used in a variety of ways, including soups, stews, and casseroles. Flavor them with meat like ham or bacon and serve them over rice for a hearty side dish or mash cooked beans and add them to a tortilla with melted cheese and chopped tomatoes for a quick and delicious vegetarian Mexican meal.
Chicken
One whole chicken can be used for three different meals. Roast a chicken with olive oil and herbs for dinner one night and use the leftover meat for chicken salad sandwiches the next day. Cook the carcass down in a pot filled with water and a few carrots, celery and onions and you have the perfect homemade stock to use for soups. Freeze the stock in quart containers for up to three months. To use, saute leftover vegetables in olive oil in a large pot. Add the stock and bring to a boil. Reduce heat and gently cook for another 15 minutes. Season with salt and pepper and your homemade vegetable soup dinner—the third meal from one chicken—is served.
Stir Fry
When shopping in the produce section, choose seasonal vegetables. They are in abundance, which means they are the most affordable. Choose three of your favorites—a leafy green, a crunchy item like a pepper, and something hearty like mushrooms. Saute them up with some oil and garlic for five to seven minutes. Add onions and season with soy sauce, if you want. Serve over rice and you can have a delicious and healthy stir fry dinner done in less than 20 minutes and for less than $2 per person.
Pizza
Not the takeout variety. Homemade pizza is a cost effective meal that can be fun to prepare and healthy, too. The dough can be made with pantry staples and toppings can include leftovers. Mix two cups of flour, 2/3 cup of water, and 2 teaspoons of baking powder together and knead it for about two minutes. Roll the dough out and lay on a baking sheet. Top it with canned, crushed tomatoes—usually a weekly sale item—your favorite cheese and whatever leftover veggies you have in the fridge. Cook for 20 minutes at 425 degrees.
Meat Main Dishes
Here is a supermarket saving tip: the front page of your supermarket circular highlights the most savings—and that can mean up to a 50 percent discount on meat. But even if you miss out on those deals, inexpensive cuts of meat like pork shoulder are usually offered at around $1.69 per pound. An average sized cut is around 7 pounds, so ask the butcher to halve it for you and remove any excess fat-or cook it all and then make chili or stew with the leftovers. Rub with garlic, salt, and pepper and roast in a 350 degree oven until cooked through and the skin is crispy, around 30 minutes per pound. Serve with a sauteed seasonal vegetable and roasted potatoes and this meal still won't cost you more than $4 per person.
Pasta Casserole
Baked pasta dishes are hearty, comforting and affordable. And most of all, they are easy. Cook one pound of macaroni in boiling water until firm to the tooth, drain and mix it in a casserole dish with your choice of sauce. Try a melted cheese and heavy cream sauce for authentic home style mac and cheese bake, or crushed tomatoes and mozzarella for an Italian baked ziti. Add cooked meat or canned tuna for extra protein and flavor, and season with a sprinkle of salt and pepper. This is a meal that will run you less than $3 per person and is sure to make for delicious leftovers the next day.
References
Writer Bio
Fabiana Santana is a freelance food writer, editor and recipe tester and developer based in New York City. She has worked as a writer and editor for Singlemindedwomen.com, Chef Laurent Tourondel, "Family Circle," "Profile Magazine," Shecky's, Julib.com, "Time Out New York" and many other publications. Santana is a graduate of the French Culinary Institute Culinary Technique program.