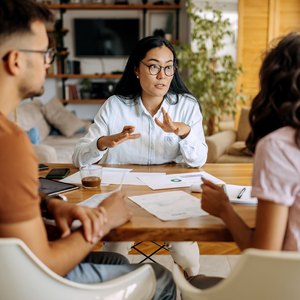 While you can do almost all of your Chase banking and check your accounts at an ATM or using the Chase mobile app, you might want or need to visit a branch over the years. Bank representatives can help you answer questions about mortgages, loans, card applications or opening accounts and give you personalized advice based on your credit score, income and other personal information.
You can find the closest Chase bank near you using an online search, the Chase mobile app, your online account or by calling the number on the back of your Chase card. You can also perform a general online search, such as "Chase bank near me" to get directions to one of Chase bank's ​4,700-plus​ locations.
Visit the Chase Website
If you're on a computer, visit the Chase website and navigate to the ATM and branch locator page. Enter your zip code or address, city and state in the search bar. In your list of results, each location listing will include information such as the bank's address, phone number, whether or not the branch has an ATM at the location and the bank's daily hours of operation.
Here is an example of search results for the zip code 30008 in Marietta, Georgia. Click the highlighted "Directions" button if you want directions to Chase bank locations, or check out the map on the right-hand side of the results page.
Use Your Online Account
When you open a Chase bank account or get a credit card from the company, you can set up an online account. This allows you to check your balance, make payments, transfer balances, review your statements or set up auto payments.
Log in to your account and look for the three bars in the upper left-hand corner of the screen. Click on the three bars to reveal your options. Select "Find ATM & branch" to get to the branch locator page.
Use the Chase Mobile App
If you're not near a computer, use the Chase mobile app. Download the app to your phone from the Apple Store or Google Play and follow the directions to set up and activate your account access. Setting up an online account or mobile app access will require you to provide your card or account number, Social Security number, mailing address or zip code associated with the account and other information, so have your account information handy.
Once you set up your account, you'll be asked to log in and you should have immediate access to your account. Use the search function on the app to find the nearest Chase bank branch by you.
Call Chase Bank
If you have your debit or credit card with you, or a copy of your statement, call the customer service number on the card or statement. When you get an agent, tell her you want to find the nearest Chase bank near you. Before you get to an agent, you'll be asked to enter the last four digits of your card number and your zip code.
Chase offers a variety of phone numbers for customer service, including ​800-935-9935​ for checking and savings accounts (but not credit card accounts). Check the back of your credit card for the phone number associated with your card account. As of September 2021, there was no option to hear branch locations, so you will need to press ​zero​ to speak with an agent.
References
Writer Bio
Steve Milano has written more than 1,000 pieces of personal finance and frugal living articles for dozens of websites, including Motley Fool, Zacks, Bankrate, Quickbooks, SmartyCents, Knew Money, Don't Waste Your Money and Credit Card Ideas, as well as his own websites.