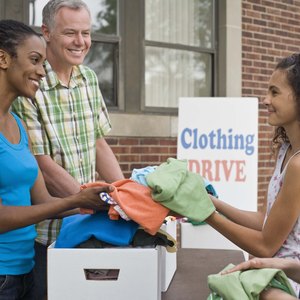 •••
Jupiterimages/Creatas/Getty Images
A useful way to clear your clutter is to identify what items still have years of life left in them then donate your stuff to a charity. But large furnishings and other yard and household items, big lots of still-good clothing and even cars might need a pick-up -- and not every charity offers that service. Before you organize a donation, check to see what charities pick up specific items and how their scheduling works.
The Salvation Army
The Salvation Army operates donation centers nationwide and has a fairly inclusive pick-up service that must be scheduled in advance. Not all items are accepted in all locations, including cars and boats. There are minimum quantities for pick-ups in some areas -- numbers of boxes of books or bags of clothing, for example. The organization has online scheduling for pick-up in several states and requires you to set your own evaluation for tax purposes. Call them in advance of scheduling to be sure you have the correct amount of merchandise to qualify for a pick-up or to find a drop-off donation center near you.
Charity Pick-up Service
An aggregate pick-up service is an organization that services several charities, such as the Vietnam Veterans of America or the Military Order of the Purple Heart Service Foundation, by providing an efficient and economical fleet of vehicles and workers to collect large donations. Organizations that accept cars may have a tow service pick-up available for a vehicle that no longer runs. Clothing and household goods donations fund many programs of smaller organizations and the pick-up services have varying requirements for collecting those items. Often, you can box the donation and leave it outside your door for a loosely scheduled pick-up. In large, urban areas, you may receive a window for pick-up times because of unforeseen traffic delays. It's wise to schedule a pick-up on a free day when someone can be home for the hand-off in case the trucks are delayed and can't meet the scheduled time.
Goodwill Industries
Goodwill encourages drop-off donations to save the expense of running a pick-up fleet, but the charity does have pick-up service in some areas. Furniture and other difficult-to-transport large items or large collections qualify for pick-up where trucks are available. Because of limitations of volunteers to move the items or drive the trucks, you may need to schedule your pick-up well in advance, so do your homework before preparing your gift. Each Goodwill location operates independently under the umbrella of the main organization and determines what or if it will pick-up depending on its needs for certain types of goods and the ability to handle them.
Habitat for Humanity
Habitat for Humanity builds "decent, safe and affordable places to live" in communities within the United States and internationally, using volunteers and donated as well as purchased materials. The charity accepts furniture, appliances, household goods and building materials for sale in its ReStores, as well as large lots of goods from going-out-of-business retail stores, restaurant and office remodels, and excess stock. You can arrange for recurring or one-time pick-ups for large items, or a tractor trailer or warehouse full of goods.
Food Banks
Food banks and food pantries accept donations for hunger relief and nutrition programs. These organizations primarily deal in large-scale donations from corporate donors, bakeries, production companies, restaurants, caterers, grocers, hotels, farms, wholesalers, coffee bars, manufacturers and other food-industry venues. You might work with your hospital, catering service or green market to set up regular donations of prepared foods, day-old baked goods, packaged perishable and nonperishable items, beverages, fresh produce, frozen dairy, meat, fish and poultry, and other safely stored and handled foods. Set up a regular pick-up schedule for ongoing donations or a one-time pick-up for a food drive. Small or infrequent food donations should be dropped off at soup kitchens, senior centers, shelters, low-income daycare facilities and other organizations that accept canned goods and packaged foods.
References
Writer Bio
Benna Crawford has been a journalist and New York-based writer since 1997. Her work has appeared in USA Today, the San Francisco Chronicle, The New York Times, and in professional journals and trade publications. Crawford has a degree in theater, is a certified Prana Yoga instructor, and writes about fitness, performing and decorative arts, culture, sports, business and education .