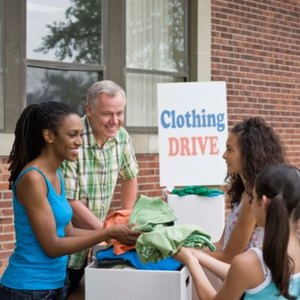 •••
Jupiterimages/Creatas/Getty Images
Many charities around Frisco and Collin County, Texas, make it easy for you to help your own community by picking up items from your residence or business. If you have large furniture or electronics, or bulk quantities of items to donate, these nonprofit groups can arrange to come get them. The organizations can use or sell your unwanted things, and you'll get a receipt for your tax-deductible generosity.
Children's Advocacy Center of Collin County
Working from offices in Plano since 1992, the CACCC counsels abused and neglected children, offers legal advice and services to affected families and provides forensic examinations for physically or sexually abused children. Donation pickup is available for large items or bulk amounts of goods, with items sold through a partnership with The Thrift Store in Plano.
Frisco Family Services Center
Frisco Family Services Center offers food, bill-paying assistance, adult education classes and other help to local people in financial need or struck by various crises. The FFSC runs a store called Frisco Resale in the northwest part of town, with all sales proceeds going to fund their charitable programs. Appointments can be made to pick up furniture, other large items and bulk amounts of clothing or other goods.
McKinney ReStore
Habitat for Humanity of North Collin County receives the proceeds from this discount store in northeast McKinney. The retail operation sells appliances, electronics, home decor and construction supplies in conjunction with efforts to build housing for the needy. A variety of used goods as well leftover paint, tile and other home improvement items can be donated to the store.
The Samaritan Inn
This Collin County charity has been in McKinney since 1984 and aims to help the area homeless with dignified housing while finding employment and a new home. A staff of employees and volunteers offers help with life skills education, career counseling and friendly support however they can. They prefer to only pick up furniture but will discuss other generous donations as well.
Frisco Humane Society
This animal welfare group works to place animals in foster or adoption and educate the public about responsible pet and animal care. Donation pickup is not available all year, but they often have yard sales and other events for which they will arrange to collect your donation. For vehicles and large quantities of some specific items, the FHS can often connect you with a partnering organization to accept your donation.
References
Resources
Writer Bio
John Bland has been a freelance writer since 2009, with his essays, fiction and poetry appearing in "Shine Magazine," "North Texas Review" and many online journals. He received a Bachelor of Arts in creative writing from the University of North Texas in 2008.