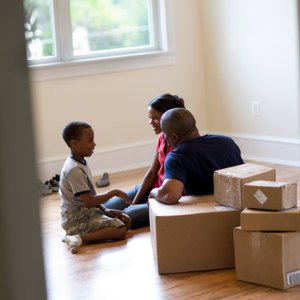 •••
David Sacks/Lifesize/Getty Images
Are you remodeling your house or moving to a different state? Instead of throwing away your old furniture, consider donating it to a charity. You will receive a tax deduction for your effort, and someone will benefit from your discarded belongings.
Goodwill
The Goodwill Foundation was founded by a minister in 1902 and has 2,400 donation box locations in the United States. All donations are placed in Goodwill retails stores and sold. The proceeds from these sales are then used to help the community by providing job training, employment placement and other community-based programs.
The Salvation Army
The Salvation Army was started in 1865 by William Booth. He died in 1912, leaving a foundation for his charity to carry on and be successful, continuing to help others. The charity now exists in more than 100 countries. Donations of gently worn furniture and other used goods are sold in Salvation Army retail stores. Proceeds support programs like the Adult Rehabilitation Centers, which offer a clean environment for people that includes therapy, food, activities, spiritual guidance and help with re-entry to society for those who need it. The goal is to influence participants to make positive life choices.
To donate, you can drop off your furniture at the nearest location or call 1-800-SAL-ARMY to schedule a pick up.
Military Order of the Purple Heart
The Military Order of the Purple Heart is a national veteran's service organization is run for veterans by other veterans who have been wounded in combat. The charity funds programs for veterans' services, welfare, rehabilitation and education. All donations are tax-deductible and can be scheduled for pick up via the website. The organization serves the region of New Jersey, Delaware, Pennsylvania, Maryland and Virginia. They accept small furniture items such as coffee tables, desks, chairs, end tables, nightstands, folding lawn furniture and rugs.
National Furniture Bank Association
The National Furniture Bank Association is a nationwide nonprofit organization that collects good-quality used furniture for families in need. The National Furniture Bank Association is made up of more than 60 furniture banks nationwide. The group says it has provided beds, chairs, tables and other items to more than 100,000 men, women and children with used furniture that would not be able to afford it otherwise. Locate a drop-off center near you on the website.
References
Writer Bio
Kimberly Fisher is based in New York City and has been a writer since 2008. She specializes in luxury travel, lifestyle, beauty and fashion. Her work has appeared in "NiteGuide," "OceanView," "Play" and "Reliving." Fisher authored the book "Promotional Modeling 101." She studied liberal arts and business at Mount Saint Mary's College.