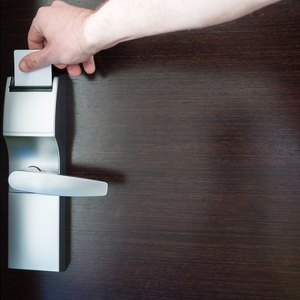 •••
Zvonimir Luketina / EyeEm/EyeEm/GettyImages
When you book a hotel, it's important to pay attention to when and how much your credit or debit card will be charged. Sometimes you can save money by prepaying for all or part of a hotel stay at the time you book the room rather than paying when you arrive at the hotel or when you check out. Even if you're not charged for a room up front, a hotel can put a hold on your card that can lower your available credit limit on a credit card or limit access to your bank balance on a debit card until your stay is complete.
If you prepay the room partially or fully, the hotel will likely charge your card for that amount right away. In other cases, depending on the hotel's policies, the hotel might charge you for a room deposit when you book and then place holds for the rest of your room fees and incidental charges once you check in.
Prepaid Hotel Rooms
In some cases, you can save money by prepaying for a hotel room at the time you reserve it. Traditionally, you would not be charged for the room until you actually stay in it, but some online sites and hotel chains such as Marriott and Holiday Inn now offer discounts for prepaying for a room.
Generally, you will pay in full for the hotel stay using a credit or debit card when you book it and will have limited ability to get a refund if you don't actually stay in the hotel, similar to booking a plane ticket. If you're going to take advantage of such a deal, it's important to consider how likely you are to have to cancel your trip, how generous the discount is and whether you have the funds or credit available to pay for your trip in advance.
Room Deposits
In some cases, you may not be asked to prepay for an entire stay, but may be asked to put down a partial deposit to guarantee the room when you reserve it. Often, this deposit is equal to the cost of a single night's stay, and it'll be booked to applied to your reservation when you check in. Whether this deposit is refundable if you cancel depends on the hotel policies and, sometimes, how close to your reservation date you cancel the stay. Make sure you understand your hotel's policies before booking.
Vacation rental sites such as Airbnb and VRBO often also offer arrangements where you pay for at least part of your stay online, with varying refund policies. It's a good idea to make sure you understand payment and refund terms before booking any kind of accommodations.
Credit and Debit Card Holds
Even if you don't prepay for a hotel room, the hotel may place a temporary hold, or "block," on your account either when you book your stay or when you check in, guaranteeing the ability to charge those funds to your card. Generally this will be done when you arrive at the hotel, rather than when you book the reservation, but it's best to check with the hotel or booking service to learn the details. The size of this hold can vary widely from hotel to hotel.
Often, you will be asked to provide a credit or debit card to cover incidental charges, such as room service meals, pay-per-view television or room damage, when you check into a hotel, and a hold will be placed on your card. Make sure that you're comfortable with a hold being placed on whatever card you provide to a hotel, and inquire if you're not sure about the terms of any such hold.
You may sometimes see a $1 charge on your credit card account, used to verify the card is valid before you're finally charged for the room. This charge should disappear when your final charge for the room appears on your account.
You won't necessarily be charged by a hotel for the full amount of any hold on your account. Usually, you'll only be charged for the room either at check in or check out, assuming it's not prepaid, and then for any incidental charges, with the hold being released shortly after you check out.
References
Writer Bio
Steven Melendez is an independent journalist with a background in technology and business. He has written for a variety of business publications including Fast Company, the Wall Street Journal, Innovation Leader and Ad Age. He was awarded the Knight Foundation scholarship to Northwestern University's Medill School of Journalism.