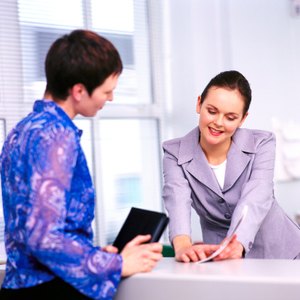 •••
Stockbyte/Stockbyte/Getty Images
The Social Security Administration (SSA) offers eligible members of the Supplemental Security Income (SSI) program monthly cash benefits if they have low or no income. It includes disabled adults and children as well as elderly American citizens over the age of ​65​.
Currently, the SSA sends most SSI payments via direct deposits instead of the traditional paper checks. The latter used to be delivered by mail. But everyone is now encouraged to opt for electronic money transfers to improve convenience.
However, if you are uninterested in bank deposits, SSA offers a debit card option. That said, in the era of online banking, direct deposits provide plenty of conveniences. And you can still use your bank account to cash in checks if the need arises.
Changing Banks for Social Security Check Deposits
To change a bank for Social Security check deposits, you will need to go through several steps. Below are the guidelines you should follow.
1. Selecting a New Bank
First, determine where you want to bank. It could be your local credit union or commercial or community bank. Also, try to select a bank with excellent online banking services so you can access your money when it is convenient for you.
You can open a bank account (savings or checking) offline by visiting the local branch or on the website of the bank you select. The FDIC has a BankFind tool that can help you find a good bank in your locale. It also provides resources to enable you to open an online bank account.
Be sure to provide all relevant documentation such as your driver's license or any other valid ID, Social Security Number (SSN) and a minimum deposit if necessary.
2. Setting Up a Direct Deposit Account Offline
If you visit your local bank in person for help in setting up a direct deposit account, let them know you intend to redirect your SSI payments to that new account.
You may need to apply for the account by downloading and filling in the direct deposit sign-up form (Form 1199A ). And do not forget to tick the SSI payment section. However, some sections will be filled by your new financial institutions.
If you apply for a new bank account online, you will likely have to fill in the details and submit the form online or to the address the online bank account provides.
3. Setting Up a Direct Deposit Account Online
After that, go to the "Update Direct Deposit" section and provide relevant information such as the new bank's routing number, your SSN, the new account number and account type. And then, you can submit the information and select when the changes take place.
If you have been getting your SSI benefits by check, contact Go Direct at ​1-800-333-1795​ (English) or ​1-800-333-1792​ (Spanish) and sign up for the direct deposit option. You can also do so via their website.
Benefits of Direct Deposit
A direct deposit is an excellent option because it is fast, convenient and very safe. Instead of waiting, you can receive the money in the comfort of your home. And you won't have to worry about your security.
However, practice caution. Until you receive your SSI benefits in your new account, you should not close the old one when you change a bank for Social Security check deposits. That way, you can receive your payments even if something goes wrong with the new bank account.
References
Resources
Tips
You can manage direct-deposit payments online if you have a password to perform online transactions with the SSA.
Writer Bio
I hold a BS in Computer Science and have been a freelance writer since 2011. When I am not writing, I enjoy reading, watching cooking and lifestyle shows, and fantasizing about world travels.