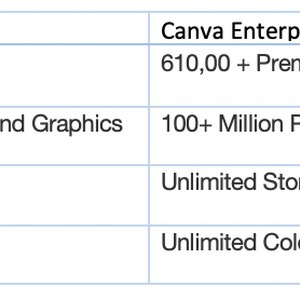 Canva is a graphic design platform that allows the user to create professional designs. Be it a Zoom presentation or social media graphics, Canva is versatile and easy to use for an array of applications. There are different levels of Canva. Two of these levels are Canva Free and Canva Enterprise.
Canva Free for Easy Graphic Design
Canva Free offers a lot to a one-person business. It allows a business owner who's not familiar with graphics platforms to dive in without a monetary investment.
Canva Free provides access to photos, videos and music that can be used commercially at no charge. A business owner has the capability to edit this media, which is great for creating social media content. You don't need to be a designer to use Canva Free. You only need to have an idea and create a graphic that you like and that represents your business.
Canva Free allows an individual or one-person entrepreneur to quickly create graphics to market a business. It's a basic no-frills design tool that does the job for many.
Create with Canva Free
Canva Free has the capability to help small businesses design several products. Some of these include:
​Presentations​ – including talking, mobile formatting
​Social Media​
​Video​ – video message, Facebook, mobile
​Print Products​ – postcards, shirts, business cards
​Marketing​ – logo, blog banner
​Office​ – reports, letterhead, A4 document
Traditionally, most of these products would have had to be created by a graphic designer. But Canva Free gives a small business the opportunity to be creative in-house.
Canva Enterprise for the Next Level
Canva Enterprise was developed for large businesses that have numerous employees working on graphics at the same time. And although Canva Free has some limited sharing, Canva Enterprise is specifically designed to allow team members to view, access or edit at the same time.
Canva Enterprise can share and keep a brand consistent by locking controls that could deviate from the brand. This includes keeping uniform colors and templates.
It offers the same business design products that Canva Free does. But Canva Enterprise offers these products on a larger scale, and graphics can be customized with extra features.
One feature is the ability to remove image backgrounds instantly with Background Remover.
Support is always available with Canva Enterprise. They offer it 24/7. It also has a single sign-on.
Canva Free vs. Canva Enterprise Features
How does it look when Canva Free and Canva Enterprise go head-to-head? Since they do share some features, an apples-to-apples comparison is possible.
250,000+ Free Templates
100s of Thousands Free Photos and Graphics
5GB Cloud Storage
One Color Palette on Brand Kit
610,000+ Premium and Free Templates
100+ Million Premium Photos, Video and Audio
Unlimited Storage
Unlimited Color Palette on Brand Kit
Canva Free features are still available with Canva Enterprise, but it offers so much more. There are a lot more choices. If you are doing heavy graphics work, those choices can become a necessity.
Canva Enterprise Offers Better Sizing
Posting the same message to various social media platforms can sometimes be a challenge. Each platform has different specifications. One feature that Canva Enterprise has over Canva Free is its sizing capability. Magic Resize can change your design to meet each platform's needs with the push of a button. It can also resize for print or your website. This saves both time and money.
Canva Enterprise Offers Social Media Scheduler
Planning when different posts will hit the various social media platforms and uploading them is a full-time job. Content Planner schedules and uploads these posts. This isn't available to Canva Free users.
Using Canva's Content Planner eliminates the need to use a scheduler app. An app like Later can cost anywhere from $15 to $40 a month.
When Does a Business Need Canva Enterprise
Besides the technical features of Canva Enterprise, there's the benefit of having a large group of employees working cohesively on a marketing and branding plan.
Canva Enterprise has built-in workflows that help everyone see what is being worked on and what needs to be done. The result is quicker approvals.
With a big team, staying on-brand can be a challenge. Brand controls are in place with Canva Enterprise. This limits access to fonts, templates, colors, etc.
Canva Enterprise is necessary for organizing a large group of employees who all have a part in a business's branding and marketing.
Canva Enterprise Fee Structure
Canva Enterprise has several plans available. You can also contact the company and customize one for your needs. The pricing is monthly and is based on the number of users. Currently costs per month are:
1-5 people - $150
10 people - $300
15 people - $450
50 people - $1,500
If there are more than 50 people, Canva can be contacted for a price.
Can the Cost be Justified?
Your business's circumstances and goals determine if the cost of Canva Enterprise is justified. A small business with zero or limited employees may not be able to justify the need for all the bells and whistles of Canva Enterprise.
But if you have 10 or more users who must work together and are developing branding and marketing campaigns, the Canva Enterprise price tag is probably worth it. It will allow greater productivity by streamlining the creative process. Management will also have more control over keeping the branding message consistent.
Canva Free vs. Canva Enterprise Winner
A small business wins with Canva Free. It's great for small jobs. It allows a business to produce professional graphics at no cost. And it's a great enhancement to a marketing program. There are more than enough images and templates available for most businesses' needs.
Canva Enterprise is for larger teams. These teams need the advanced features. They also work better with collaboration controls.
References
Writer Bio
Anne attended University of Akron and went on to have a career in television sales. Working as a commercial property and casualty insurance agent for nine years allowed her to learn about different businesses' needs. She has also owned an advertising agency where she created marketing capaigns for various clients. Anne has written for several publications. She currently resides in Charleston, SC.