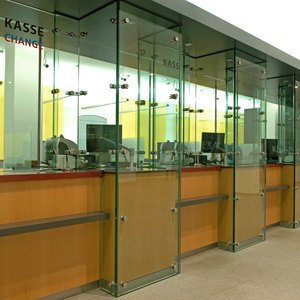 •••
thelinke/E+/GettyImages
Checking accounts can make it easier to protect, control and organize your finances. But if you have a checking account, you also have the responsibility to keep the account positive and current. A negative checking account balance can have some very negative consequences. If you find yourself unable to pay your negative account balance, there are several steps you can take to try to improve the situation.
If you find yourself unable to pay your negative checking account balance, you'll want to stop using the account and possibly even close it altogether. You may also be able to utilize a checking account advance service and ask for fee forgiveness.
Stop Using the Account
A negative account balance quickly snowballs into a huge debt because, along with the overdraft fee that your bank charges for each negative transaction, you may also get charged by the retailer or business that ran the transactions, meaning double charges for each transaction. Stop using your account immediately if it is negative. While your debit card will often be denied immediately if your checking account funds won't cover the purchase, there are times when your card is simply authorized at the time of purchase, then charged later. Additionally, when you write a check, it can take several days for the funds to transfer out of your account.
Close Your Checking Account
If you can't pay your negative account balance, the best thing to do is try to get the account closed or frozen because most banks charge a negative account balance fee when your account is negative. If you can't make a deposit, these fees will make your debt that much more difficult to settle. Call or visit your local branch to determine your options. Depending on your bank, you may be able to easily close or freeze your account to avoid ongoing fees.
Consider Checking Account Advance
Some banks offer a checking account advance service. This means the bank will lend you the money you need to bring your account positive in exchange for a hefty amount of interest. To qualify for a checking account advance, you will likely need to have funds that are deposited into your account on a regular basis. For instance, if your paycheck is directly deposited into your account every two weeks (and your account history shows this), your bank may offer you a checking account advance. Keep in mind that these advances often include very high interest rates and fees, so this option should be used very sparingly.
Ask for Fee Forgiveness
Often, your bank will want to work with you to help you settle your overdrawn account and keep you as a customer. Go into your local branch and ask to speak to a bank customer service representative. Explain your situation to the representative and let them know that you would like to bring your account current, but cannot pay the fees that have accrued on your negative account. If you do not have a history of overdrafts, the bank may remove some or even all of the overdraft fees and charges on your account. This would lower your debt and enable you to pay it back sooner.
References
Writer Bio
Kristen Radford Price began writing in 2005 for her campus newspaper. She has served as a feature writer for the life-and-style section of the "Daily Herald," a contributor to "Utah Valley Weekly," an editor for a small publishing house and now as director of communications for an Internet company. Radford has a Bachelor of Arts in journalism from Brigham Young University.