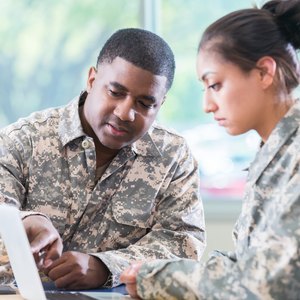 •••
asiseeit/E+/GettyImages
People who may qualify for benefits awarded and distributed by the U.S. Social Security Administration include – in addition to those who are retired – disabled individuals, a spouse or child of another person who receives Social Security, a spouse or child of a worker who died or a dependent parent of a worker who died. The U.S. Department of Veterans Affairs serves those people who have served in the U.S. armed services. The groups served by Social Security and Veterans Affairs are not mutually exclusive.
Qualifying individuals can receive both Social Security benefits and Veterans benefits simultaneously.
Understanding Veterans Benefits
Most veterans become eligible for benefits through Veterans Affairs after being discharged from active military service, provided the discharge was not dishonorable. Disability compensation is money that is paid to a veteran injured on active duty. The amount of money you may receive varies based on the nature of your disability and your number of dependents. You would receive this benefit monthly, and you would not pay state or federal income tax on it.
"Veterans with low incomes who are either permanently and totally disabled, or age 65 and older, may be eligible for monetary support if they have 90 days or more of active military service, at least one day of which was during a period of war," the Veterans Affairs website notes.
The payment you may receive through a VA pension is designed to bring your total income, which includes Social Security benefits, to a level set by Congress. For example, in 2018, disability pension rates ranged from $13,166 for a veteran without dependents to $26,036 for a veteran who needs regular attendance and who has a dependent.
Social Security Benefits
Social Security benefits include the old age, survivor and disability insurance programs. About 18 percent of adults who receive Social Security benefits are veterans, according to the U.S. Social Security Administration. Both Social Security and Veterans Affairs offer disability benefits. Benefits received through Social Security are different from those received through Veterans Affairs. The benefits paid through Social Security include money you may receive if you become disabled while on active duty, assuming you have worked long enough to have paid Social Security taxes, and Supplemental Security income – also called SSI – which you may receive based on financial need. In 2018, you must have worked long enough to have earned at least $5,280 for at least ten years or earned at least $14,310 in one year to qualify for Social Security benefits.
Receiving Benefits from Both Simultaneously
If you are currently receiving military pay, that does not necessarily bar you from receiving Social Security disability payments. If you are receiving military payments and feel that you are eligible for Social Security disability payments, the government encourages you to apply for it. The Social Security Administration emphasizes that the amount of work that you can or cannot do determines your payment through Social Security. It does not matter what the amount of the pay might be. You may apply for Social Security benefits while you are in the military or after you are discharged.
Other Important Benefits
As a veteran, you may receive other benefits besides monetary ones. You are eligible for health care through Veterans Affairs, which operates one of the largest health care systems in the United States. You might be eligible for financial support for education to obtain a graduate degree, an undergraduate degree or vocational training. Certain types of home loans are available, as well as life insurance and burial benefits. Receiving Social Security benefits has no effect on those veterans' benefits.
References
Writer Bio
Laura Agadoni has been writing professionally since 1983. Her feature stories on area businesses, human interest and health and fitness appear in her local newspaper. She has also written and edited for a grassroots outreach effort and has been published in "Clean Eating" magazine and in "Dimensions" magazine, a CUNA Mutual publication. Agadoni has a Bachelor of Arts in communications from California State University-Fullerton.