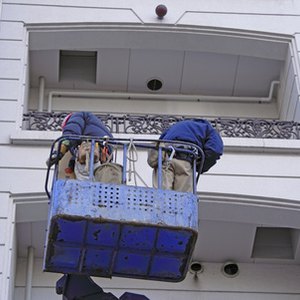 Individuals who are working can apply for short-term disability (STD) insurance if they are unable to earn incomes due to being sick or injured for temporary periods of time. There are several sources available for workers to receive STD benefits, including insurance companies, employers and state governments. Depending on how the insurance premiums are paid, their STD benefits will be taxed by the Internal Revenue Service (IRS).
Information about STD Insurance
There are many eligibility requirements that individuals have to meet to receive STD coverages but the main qualification is to have earned incomes. This is because the primary goal of these plans is to replace the insureds earnings until they are able to return to work. There are many illneses and injuries covered by these plans; the most common causes of STD plans are maternity leave and back problems, according to the disability insurer Unum.
Types of Plans Available
There are STD insurance plans that can be purchased directly from insurance companies that cover different lengths of time and different benefit amounts as well. Individuals can also apply for coverages through their employers if they have sponsored group STD plans. One in two companies provide STD coverages for their employees, according to Insurance.com. Generally both plans can cover workers for time periods ranging from 13 weeks to two years. STD plans may also have waiting periods that insureds must satisfy before receiving benefit payments. Waiting periods typically last for a couple of weeks, but medical conditions such as pregnancies can cause waiting periods to be waived by insurers.
Government STD Coverages
Some states provide short-term disability coverages for those who work in their jurisdictions. These types of STD coverages, which are paid for with payroll taxes, provide benefit payments to workers for several months up to a year. Only five states -- Hawaii, New Jersey, New York, California and Rhode Island -- sponsor such programs. Benefit payment amounts are different for each state. For example, California workers receive payments covering 55 percent of their incomes while eligible Rhode Island workers get between $69 to $700 in weekly benefits based on their wages.
STD Benefit Amounts and Taxation
Each source for STD coverages pays benefits that replace portions of the insureds' pre-disability earnings. Most private and group STD plans pay between 40 and 65 percent of the insureds' salaries, according to the Life and Health Insurance Foundation for Education. However, some plans pay benefits that must be reported as income on the recipients' tax forms. Group-sponsored plans pay taxable benefits because insurance premiums are generally paid with pre-tax dollars. State government and private STD plans, which are funded with after-tax dollars, distribute tax-free benefits.