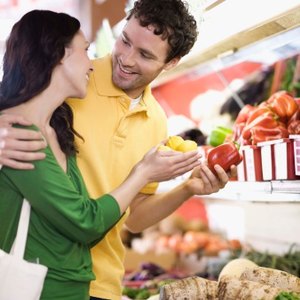 •••
Jupiterimages/Brand X Pictures/Getty Images
The Center on Budget and Policy Priorities calls the USDA's Supplemental Nutrition Assistance Program (SNAP) "the nation's most important anti-hunger program." They go on to state that in fiscal year 2017 a total of 1,047,000 Tennessee residents utilized the program. That's 16 percent of the state's population. If you find yourself in need of a little help, and you are approved for SNAP benefits TN, you'll need to know what you can buy with your Electronic Benefits Transfer (EBT) card.
Food Stamp Requirements
In order to receive food stamps, you'll need to meet the eligibility requirements. All states, with the exception of Hawaii and Alaska, have the same income limits, which are set by the United States Department of Agriculture (USDA). The limits are set by family size and a gross monthly income that falls below 130 percent of the poverty level. That means a single individual can earn up to $1,316, while a family of four is permitted to make as much as $2,720.
The USDA also sets restrictions on your available resources. Households can have $2,250 in countable resources or $3,500 if someone in the house is disabled or over the age of 60. Your home, Supplemental Security Income (SSI), Temporary Assistance for Needy Families (TANF) benefits and most retirement and pension plans do not count toward your allowable resources.
Contacting Human Services
To get more information on food stamps TN, you'll want to contact the Family Assistance Service Center by calling 1-866-311-4287. If you've already been approved, you can utilize Tennessee's online portal called CaseConnect. Once you create an account, you will be able to log in and view information on your case.
What Can Food Stamps Buy?
The main purpose of SNAP benefits is to provide you and your family with foods to eat. Most typical foods found in your grocery store are eligible. The list includes meats, such as ground beef, pork chops and sirloin steaks, poultry, like chicken breasts and whole turkeys and fish. You'll also be able to buy fruits, vegetables, breads, grains, cereals, milk, eggs and yogurt. If you have a green thumb and don't mind growing your own foods, SNAP benefits will also cover the cost of seeds and plants.
Additionally, you may be surprised to discover that your EBT card can be used to purchase a variety of junk food items. Soda, bakery cakes, ice cream, cookies and candy are all eligible. That comes in handy if you'd like to pick up a sweet treat for your little one's birthday.
What the EBT Card Cannot Buy
It is also important to review the list of items that are not covered under the Tennessee SNAP program. When it comes to foods, you won't be able to buy hot foods or prepared foods that can be eaten in the store, alcoholic beverages, such as wine, champagne and beer, vitamins and tobacco products. Food stamps also won't pay for any nonfood items you may come across in your grocery store. That means you'll need cash to buy pet foods, paper towels, toilet paper, soap, shampoo, hygiene products, cleaning supplies and over-the-counter medicines.
Special Foods That Also Qualify
There are a few special foods that SNAP benefits will cover. When it comes to items like energy drinks, the rule is that the product must have a nutrition label. Products with a supplemental facts label are not eligible. Also, live lobsters, crabs and fish can be paid for with food stamps, as well as edible pumpkins. You can even pick up birthday cakes as long as they do not contain nonedible decorations that cost more than 50 percent of cake's purchase price.
Hot Foods Exception
Depending on the specific area, some restaurants have been permitted by the USDA to accept food stamps from the disabled, elderly and certain homeless individuals. This is an excellent benefit for those who find it hard to prepare a hot meal on their own.
References
Writer Bio
Alicia Bodine is a New Jersey-based writer specializing in finance. With more than 13 years of experience, her work has appeared in LendingTree, GoBankingRates, Sapling, Zacks and budgeting.thenest.com.