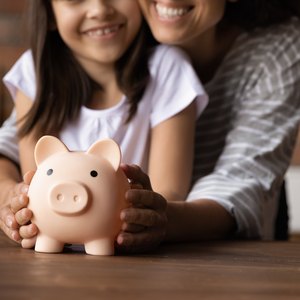 •••
fizkes/iStock/GettyImages
A whopping 29 percent of parents pay for their children's higher education in the United States. However, with the talk of the Social Security system being eliminated, perhaps parents would do better to open an IRA for their children. With countless ways to save for the future, an IRA offers a secure and deferred option for helping your kids out in the long run. Here's where to start when opening an account for minors and how a parent can contribute to a child's IRA.
Where to Start With IRAs for Kids
Individual retirement accounts, or IRAs, are designed to accumulate funds over the course of many years to supply an individual with more income during retirement than just Social Security provides (if they qualify). If you're able to open an account when your child is little, that adds many more years of savings than if they were to begin an IRA during their career. Let's take a look at the different types of IRAs so you can decide which one will be a good fit for you and your child.
Children Traditional IRA
When you open and contribute to a traditional IRA, the money is tax-deductible, meaning you do not pay taxes on it when it is deposited. When filing taxes, any contributions (within the allowed maximum amount) will not be counted toward your adjusted gross income and therefore are not taxed. However, when it comes time to withdraw during your retirement years, the money is considered income and will be taxed according to your tax bracket for that year.
This is a good option for individuals who need the maximum amount of money out of their paycheck but still want to be smart about retirement.
Children Roth IRA
Roth IRA contributions are considered part of your adjusted gross income and therefore are taxed before they are added to the account. You will not be taxed upon withdrawal in retirement. Roth IRAs are the best IRA accounts for a tax-free retirement. If your child can manage to go without the amount of money that is taken out in taxes, children's Roth IRA accounts are beneficial in retirement.
Custodial IRA for Working Minors
Custodial IRAs for working minors are an excellent way to help a minor save their earned income. For the current tax year, the maximum contribution to a Roth IRA was ​$6,000​ per child but could not exceed the child's earned income. So if the minor only made $3,000, that was the maximum contribution for their Roth IRA for the year.
If a parent or guardian wants to contribute to the IRA, they can set up a matching program like some employers do for their employees. A parent can match dollar for dollar or some other incentive method. The most important thing to know is that the money has to come from the parent's taxable income and the total amount contributed can't exceed the maximum allotted contribution for that tax year. In the example above, if the parent wanted to match the child's contribution, they would each contribute $1,500 for a total maximum amount of $3,000.
Custodial IRAs are merely managed by the adult until the minor reaches the maturation age of the account. The statements and communication on the account go to the custodian, but nothing can be withdrawn until the minor comes of age and the account legally becomes theirs. Any contributions are there for the duration of the account life.
Things to Know About IRAs for Minors
Although IRAs may seem straightforward, it is important to remember the key facts. You can only contribute earned income. This means that monetary gifts from family and friends cannot be deposited into the account. Do not exceed the maximum amount per year per child. And remember to think about whether you want to pay the taxes upfront or on the back end before opening a traditional or Roth IRA for children.
References
Writer Bio
With over seven years of freelance writing experience across a variety of genres, I have quite a bit of education and research to share with those looking for financial guidance. My personal experiences, including two house purchases, two paid off car loans, home refinance, and a Home Equity Line of Credit process, give me the practical knowledge to assist with large financial decisions. Meanwhile, budgeting everyday necessities for a family of seven focuses my expertise on daily savings. In addition, I have written financial articles for a top ranking finance site, Go Banking Rates.