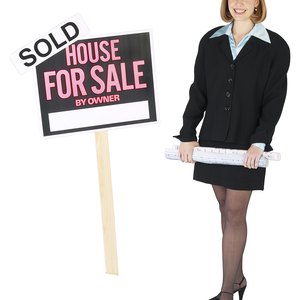 •••
Hemera Technologies/PhotoObjects.net/Getty Images
With more than 87 percent of homebuyers using the Internet to find property, according to the National Association of Realtors, listing your house for sale on your local multiple listing service, or MLS, casts the widest net. From hiring a full-service agency to handle your listing, to selling your home yourself, using the MLS to publicize your property is the most effective way of attracting buyers.
Hire a brokerage firm to handle your listing and it'll appear on your local MLS and on web-based real estate websites. Agree to a commission percentage payable to the selling and buying agents as this information will appear on the actual listing. Be aware that buyers' agents look at the fee before showing a property, and often use it as a basis for what homes have priority when showing their clients properties for sale.
Pay a fee to a listing company and order a listing package plan to put your home on the MLS. Post your name and contact information so all calls and questions are directed to you. Take your own listing photos and give the correct information, including dimensions and disclaimers. Be available for all showings, answer questions and negotiate any offers that come in as you're only paying for the listing, not the services of an agent. Handle closing details yourself. Agree to pay buyers' agents a commission if they bring you an offer; this percentage must be stated in the listing.
List your property on the internet site of your local newspaper and any publication that covers your locality. Act as your own agent to handle all the details of selling a property. Tell buyers' agents if you're willing to pay a commission if they show your house, and agree to it in writing.
Avoid paying a fee for the MLS and list your home on free online classified ad websites. Add a blog post about your listing on Trulia. Consider international sites, especially from countries that don't have their own MLS and depend on commercial sites, if your area attracts foreign buyers.
References
Writer Bio
Jann Seal is published in magazines throughout the country and is noted for her design and decor articles and celebrity *in-home* interviews. An English degree from the University of Maryland and extensive travels and relocations to other countries have added to her decorating insight.