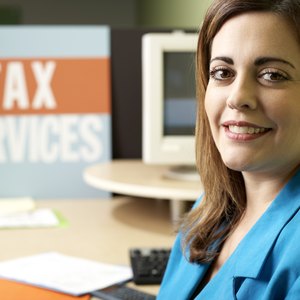 •••
Creatas/Creatas/Getty Images
When you e-file your tax return, an IRS PIN takes the place of your pen and ink signature, and verifies your identity to the IRS. However, due to attempted hackings, the IRS no longer issues PINs. That being said, you can still self-select a PIN and, in some cases, get an IRS-issued Identity Protected PIN. A self-selected PIN is a five digit number of your choosing. An IP PIN is a six digit number. It would have been issued to you by the IRS if you reported to them, or if they determined that you were a victim of identity theft. You can also get one by opting in to receive one, or if you live in Florida, Georgia or the District of Columbia and participated in their pilot program.
If you have lost your IRS PIN number, it may be possible to retrieve it using the IRS's online PIN recovery tool. However, if you can't recover your PIN, you should still file your taxes using a mail-in return.
IRS PIN Retrieval Is Possible
IRS PIN Retrieval Exceptions
If you've moved since you filed your last tax return or it's later than Oct. 14, and you haven't yet filed for the current or last year, you cannot use a PIN to file. Any PIN. So don't spend your time working on IRS PIN recovery. You have to go the old paper and ink route, and mail your return.
Also do not try to e-file without a PIN. The IRS will reject your return and tell you to file by mail. When they receive your mailed return it will undergo more scrutiny than if you had just mailed it in the first place. If you have a refund coming, it could be a long wait.
Security Changes for 2018
The IRS is trying to reassure taxpayers that they're taking steps to secure their information and that it's safe to e-file. They notify you if they receive duplicate filings under your Social Security number. They've also published Form 14039 for you to use if your e-filing is rejected because someone already filed a return with your Social Security number on it. A fillable version of this form is available on their website. After you've filled it out, you have to print it and attach it to your paper return. When the IRS receives the paper return, they'll do an investigation to identify which return is fraudulent and they will process the legitimate one. Yes, this takes a long time.
Security Changes for 2017
Cyber attacks led to the IRS changing their PIN system beginning with the 2017 tax year. But if you used a self-selected PIN for your 2016 filing and still have it, you can use it again to e-file for 2017. The only other type of PIN that works for the 2017 tax year is an IP PIN that was given to you by the IRS.
References
Writer Bio
LeDona Withaar has over 20 years' experience as a securities industry professional and finance manager. She was an auditor for the National Association of Securities Dealers, a compliance manager for UNX, Inc. and a securities compliance specialist at Capital Group. She has an MBA from Simmons College in Boston, Massachusetts and a BA from Mills College in Oakland, California. She has done volunteer work in corporate development for nonprofit organizations such as the Boston Symphony Orchestra. She currently owns and operates her own small business in addition to writing for business and financial publications such as Budgeting the Nest, Zacks and PocketSense.