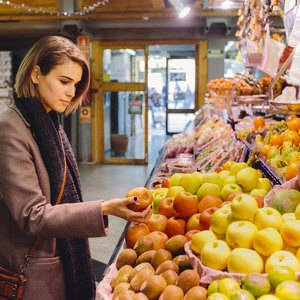 •••
Alexander Spatari/Moment/GettyImages
WIC is a federal program that offers food and nutritional assistance to qualifying individuals. Although these benefits enable you to cover basic nutritional needs of infants and young children, the foods included are not considered adequate to account for the entire diet of families receiving this supplemental assistance. Therefore, families aren't prohibited from receiving additional help from food programs, such as food stamps, while receiving WIC. The California Food Policy Advocates group, for instance, recommends using both programs.
Assuming you meet the qualifications for WIC and food stamps, you should be able to receive benefits from both programs at the same time.
Identifying WIC Benefits
WIC, a special supplemental nutrition program that stands for Women, Infants and Children, provides assistance to pregnant women and single parents of children up to age 5 to pay for health care, nutrition education, nutritional supplements and other community services. This program benefits those earning no more than 185 percent of the federal poverty scale, and despite the name, single fathers also can apply. Each state dictates methods of providing assistance, and California sends checks to WIC recipients for authorized vendors. Vermont, meanwhile, loads a benefit card with funds to buy qualifying food.
Obtaining Food Stamps
The food stamp program distributes the credits for purchasing food on electronic benefits transfer (EBT) cards with magnetic strips that work much like debit cards and use a four-digit PIN code. This federally funded assistance program is administered by state and local governments to individuals and families who qualify. Each family member must have a Social Security card, and there are limits on the amount of assets and income a qualifying family or individual may have.
Understanding Cross-Qualifying Options
Some states assert that the need for nutritional assistance is not met by either WIC or EBT assistance alone, since typically neither program provides enough food for the family to last for the duration of time these benefits are allocated to cover. California suggests using WIC and EBT together to meet the nutritional requirements of needy families. The same federal income and asset qualifications apply to both programs, so qualifying for one often means automatically qualifying for the other.
Some Important Restrictions
Your state of residence determines the amount of benefits each individual or household can receive through either the WIC or the food stamp program. Federal program benefits also are limited to United States citizens and qualified aliens who entered the country under specific refugee and foreign operations acts. Identification must be verified with a photo ID card, and income, assets or resources must be confirmed along with the amount of household bills. Be sure to contact your local agency for more information regarding what to bring for a WIC or food stamp appointment.
References
Writer Bio
Tara Thomas is a Los Angeles-based writer and avid world traveler. Her articles appear in various online publications, including Sapling, PocketSense, Zacks, Livestrong, Modern Mom and SF Gate. Thomas has a Bachelor of Science in marine biology from California State University, Long Beach and spent 10 years as a mortgage consultant.