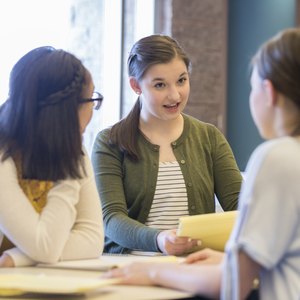 •••
asiseeit/E+/GettyImages
Food stamps provide temporary relief to needy families. Any U.S. citizen over the age of 18 is eligible to apply for food stamps. Teens looking to apply for food stamps while still enrolled in high school must meet most of the same requirements of an applicant outside of high school.
It is possible to get food stamps in high school if you are over the age of 18 and meet all of the typical requirements to qualify.
Providing a Valid ID
Teen applicants must have valid identification such as a driver's license, passport or state ID card in order to apply for food stamps. You and every member of your household must have a Social Security number. The food stamp program has strict rules regarding immigrant and alien relief. Some states require that unemployed applicants participate in a work program. In order to be exempted, you must also provide proof of full-time enrollment in your high school.
Meeting the Income Requirements
Like anyone else, teens with part-time jobs must submit pay stubs from employers as part of their application. Food stamp recipients must show they have a gross and net income that is below the federal poverty line. Your net income is the amount you make after taxes. Gross income is the amount you make before taxes. Review your pay stubs to determine whether you income falls within the federal food stamp guidelines. In 2018, a single person will qualify if she earns less than $1,316 (gross) and $1,012 (net) per month.
Considering Additional Family Members
You cannot apply for food stamps independently of your family. The income of your entire household is used to determine your eligibility; this means your parents or guardians, siblings and extended family who live in your home and share meals or expenses. If both your parents work full time and earn above minimum wage, it may be difficult for you to qualify for food stamps – the monthly income limits for a three-person household, for example, are $2,252 gross or $1,732 net. Some exceptions can be made if a household member is elderly or disabled.
Adding in Your Resources
Other resources such as the market value of your car and the cars of your parent or guardians can be counted toward your eligibility. A household cannot have more than $2,250 in countable resources. If a household member is elderly or disabled, the household countable resources cannot be more than $3,500. Bank accounts, stocks and cash are also considered countable resources. Add up the value of everyone's countable resources in your household to determine whether you can receive food stamps.
References
Writer Bio
Lanae Carr has been an entertainment and lifestyle writer since 2002. She began as a staff writer for the entertainment section of the "Emory Wheel" and she writes for various magazines and e-newsletters related to marketing and entertainment. Carr graduated from Emory University with a bachelor's degree in film studies and English.