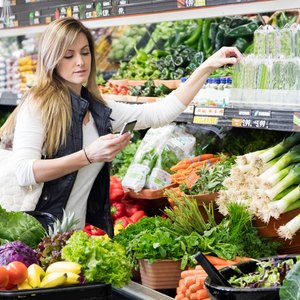 •••
-Oxford-/E+/GettyImages
The food stamp program in Tennessee is a part of the Supplemental Nutrition Assistance Program (SNAP), which is a partnership between individual states and the United States Department of Agriculture. The USDA administers SNAP at the federal level, while the State of Tennessee administers it at the state and local level and determines eligibility guidelines and benefits for food assistance.
Individuals and families approved for food stamps in the state of Tennessee can use their food stamps in all 50 states throughout America.
Using SNAP Out of State
Tennessee Food Stamp benefits are transferred on a monthly basis to your Electronic Benefits Transfer card or EBT. According to the USDA Food and Nutrition Service, you can use your EBT card in all 50 states, the District of Columbia, Guam and the Virgin Islands. All states have adopted the use of the EBT system to issue SNAP benefits. It is the only way to access your benefits; paper coupons or food stamps are no longer valid.
Understanding Where EBT Isn't Accepted
Your card cannot be used in Puerto Rico, where the food assistance program operates under a block grant instead of the Supplemental Nutrition Assistance Program. American Samoa and the Commonwealth of the Northern Marianas Islands also operate under block grants to provide food assistance. In these territories, cash or coupons are issued rather than food stamps or food distribution.
Making Online SNAP Purchases
You may not use your EBT card to make online SNAP purchases. According to the Food and Nutrition Service, the EBT acts like a debit card which requires the use of a personal identification number. Your PIN is meant to be kept secret, and online use makes it possible for others to see and potentially use your PIN and SNAP benefits.
Using Grocery Delivery Services
Some supermarkets deliver groceries. Most of these stores offer an online shopping service that requires payment be made online before delivery. In these instances, you cannot use your EBT card to pay for your purchase. You may find a local grocer that has the ability to collect SNAP benefits with a wireless terminal at the time of delivery or who will use a manual voucher that you sign on delivery.
Buying Food Wherever You Are
The ability to use your Tennessee Food Stamp card outside of your home state ensures that you will be able to buy food wherever you are in the United States. Remember to take your card with you when you are traveling. The State of Tennessee uses the EBT card to issue cash benefits for the Families First program. The EBT card is a secure way to ensure that you receive and can use your benefits at thousands of locations throughout the United States.
References
Writer Bio
Julie McMurchie has been writing family-related articles since 1990. Her work has appeared in "The Pony Express" and "California Kids Magazine." She studied composition and creative writing at Riverside Community College.