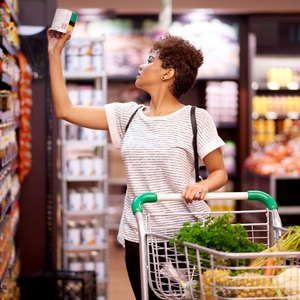 •••
Tassii/E+/GettyImages
Known federally as the Supplemental Nutrition Assistance Program (SNAP), people in need receive food stamps through their local Social Security office, Department of Health and Human Services or other state agency. Once you apply and are approved for food stamps, you receive a case number that you must provide to renew your application annually or if questions arise about your account or EBT card. The EBT card is used in place of paper food stamp certificates and works in a similar fashion to a debit card, although you can purchase only food items with it.
Apply for Food Stamps
To receive food stamps, you must apply through the department in your state that administers the program. This is different in each state. If you receive Social Security benefits, you can apply through a local Social Security office. Many states require you to pick up and return an application to an office, although they will mail you one if you are home-bound. Some allow you to download an application online that you can mail or fax in, while others, such as Massachusetts, Alabama, New Jersey and Texas allow you to submit the application online.
Submit to an Interview
After a state worker has reviewed your application, you will be called in for a face-to-face interview. If you are home-bound, a worker can come to your home. These interviews are mandatory. During the interview, the case worker will verify the answers on your application, including your income and expenses, and make copies of proof of your identification, such as a Social Security card and driver's license. This piece of the application process cannot be completed online, and it is not optional. Therefore, you cannot receive your case number online, even though you can fill out the application online in some states.
Wait for Approval
Your state will approve or deny your request for food stamps in writing within 30 days of your application. If you are approved, you will receive an information packet in the mail that includes your case number. You will need to provide that case number any time you communicate with a case worker about your food stamp needs. Guard your case number carefully to ensure no one else can access your food stamp account.
Use Your EBT Card
Previously, food stamps were provided as paper certificates you spent like money at the grocery store cash register. Now, the government provides you with a card, similar to a debit card. The card is reloaded on the first of each month with your monthly food stamp allowance. Most grocery and convenience stores accept EBT cards for approved items such as food, non-alcoholic drinks, baby food and formula, as well as seeds you will use to grow your own food at home. Non-food items, such as pet food and cleaning supplies, cannot be purchased with an EBT card. You can usually check the balance online or by phone.

Read More: How to Figure Your Qualifications for an EBT Card
References
Writer Bio
Based outside Atlanta, Ga., Shala Munroe has been writing and copy editing since 1995. Beginning her career at newspapers such as the "Marietta Daily Journal" and the "Atlanta Business Chronicle," she most recently worked in communications and management for several nonprofit organizations before purchasing a flower shop in 2006. She earned a BA in communications from Jacksonville State University.