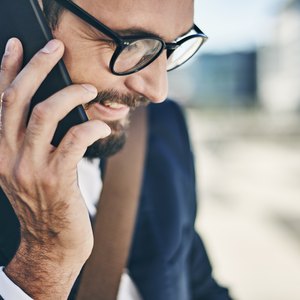 •••
Uwe Krejci/DigitalVision/GettyImages
You cannot file your federal taxes over a landline phone since a program to do so was discontinued in 2005. You can file federal taxes online, however, including using some smartphone apps. Some states also allow you to file some tax forms by landline, and you can pay federal taxes that you owe by phone, although you can't file new tax forms that way. You can also ask the IRS questions over the phone.
You can't file federal taxes over the phone but you can sign up to make payments over the phone and you can call the IRS with tax any questions. You also can use a variety of smartphone apps to file your taxes. Some states allow some tax forms to be filed through a telephone call.
Tax Telefile Programs
The Internal Revenue Service once ran a program called Telefile that allowed taxpayers to file certain tax forms over the phone. That program was ended in 2005 when the IRS cited declining interest as more taxpayers filed online.
Some states, including Pennsylvania, still allow state taxpayers to file some forms over the phone, sometimes limited to business taxes. If that's the most convenient option for you or your business, check to see if your state offers such an option.
IRS Phone Assistance
You can call the IRS with specific tax questions, or to change your address, though you can't use this system to actually file a return. According to the IRS, you should have information available to verify your identity when you call to get assistance, including your Social Security number, your previous tax return and whatever return you're calling to discuss, as well as any letters you have received from the IRS.
If you're having trouble resolving a tax issue, you also can call the Taxpayer Advocate Service, an independent service within the IRS that helps resolve such disputes. There's a branch in each state that you can call to request assistance.
File by Smartphone
You can file your taxes using a smartphone app, including ones from big names in tax preparation such as TaxAct and H&R Block. In some cases, you can take photos of tax forms you've received, such as W-2 forms sent by your employer, which can be faster than transcribing the information into a traditional web browser.
Taxpayers with adjusted gross income of $66,000 or less, who qualify for free filing, also can use free filing tools available for smartphones and tablets.
Pay Taxes by Phone
While you can't file new tax forms over a traditional phone, you can pay your federal taxes over the phone using the Treasury Department's Electronic Federal Tax Payment System, including regular income tax payments and quarterly estimated tax payments.
You need to enroll in the system online or by mail and receive a PIN that will be mailed to you, and once you do so, you can use it to make payments online or over the phone. You can use the service to make payments from your bank account or call to ask questions of a live representative.
References
Writer Bio
Steven Melendez is an independent journalist with a background in technology and business. He has written for a variety of business publications including Fast Company, the Wall Street Journal, Innovation Leader and Ad Age. He was awarded the Knight Foundation scholarship to Northwestern University's Medill School of Journalism.