Can You File Federal Taxes Without a 1099 Form?
by Ashley Adams-Mott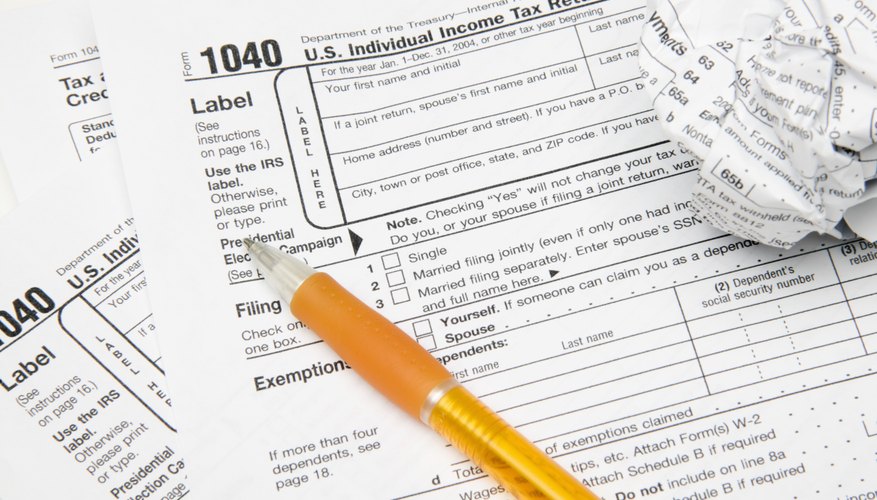 Internal Revenue Service forms in the 1099 series serve as informational forms that provide the IRS with your earnings or income data. Financial institutions, small businesses and corporations send out a 1099 when you receive funds in excess of $600 during a tax filing year. You may file your income tax return without a copy of your 1099 by reporting your earnings independently.
1099-MISC Basics
When you do contract work, for example, as a member of a pick-up painting crew, anyone who paid you over $600 must send a 1099-MISC by the February 18 immediately after the tax year or pay a penalty. If you win a prize in a contest with a value of greater than $600, you also need a 1099-MISC issued by the contest sponsor. On the 1099-MISC form, your earnings from contract work appear in Box 7 under nonemployee compensation while prizes are entered in Box 3 as other income.
Reporting Income
If you don't receive your 1099 in early February, call the business and request a copy or a replacement. In mid-February, consider contacting the IRS at 800-829-1040 for assistance if your form is still missing. The IRS then contacts the payer and requests the missing document on your behalf. When you want to file your return without your 1099, refer to your business records or prize rules to determine your exact income. If you don't have records for every transaction, you may make an estimation to file your taxes.
Taxation
Income reported on a 1099-MISC must be transferred to either Line 21 of Form 1040 as other income or on Schedule C, a form that helps calculate your small business profit or losses. When you have over $400 of profit, you must pay self-employment tax on your earnings in addition to income taxes. This makes using accurate records or making a fair estimate of your earnings extremely important when filing a return without your 1099. Underestimating your income by a large amount means facing a higher tax bill if you receive a 1099 later.
Filing Your Return
When a 1099 shows up after you filed your tax return, the IRS also receives a copy of the form and any discrepancies in the amount of income you reported and the total on the 1099 will come to the attention of the IRS. Correct any errors immediately by filing an amended return immediately using Form 1040X. If you attend college and filled out a Free Application for Federal Student Aid based on the information in your old return, contact your school's financial aid office to adjust your financial aid package.
Photo Credits
Creatas/Creatas/Getty Images