Can I File Education Expenses on My Taxes if I Don't Have a 1098 Form?
by Madison Garcia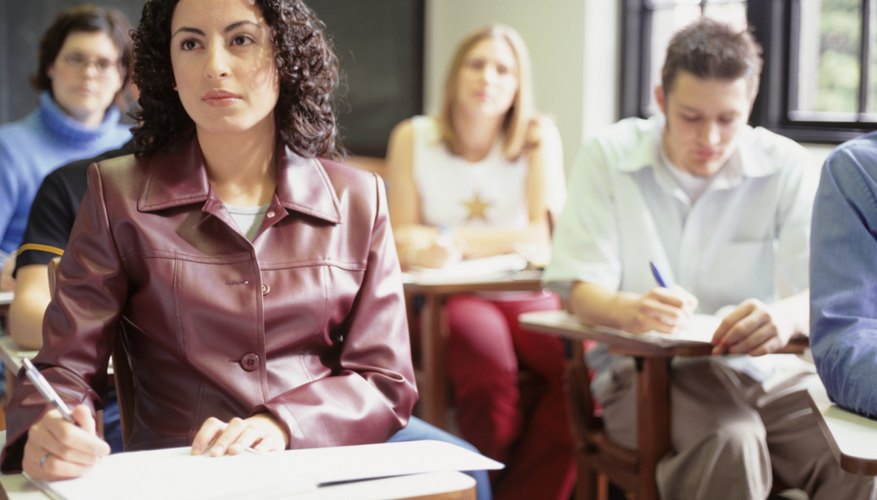 A Form 1098-T makes it easy to understand how much you paid in qualified educational expenses during the year. However, you can still claim educational expenses even if you didn't receive a Form1098-T. When calculating your qualified educational expenses, you can include only tuition and mandatory enrollment fees paid to a qualified educational institution.
Educational Credits and Deductions
Claiming educational expenses on your tax return can net you a variety of credits and deductions. Depending on how many years they've been in school, students can receive either the American Opportunity tax credit or the Lifetime Learning credit. Students who are back in school at their employer's request or to improve their job skills can list educational expenses as a work-related miscellaneous deduction. Even students who don't qualify for credits or aren't in school for a job can still take advantage of the tuition and fees deduction.
Form 1098-T
Any college or university is required to file Form 1098-T if you pay tuition and related expenses. The educational institution sends a copy to you and a copy to the IRS. Box 1 of Form 1098-T sums the total amount of qualified tuition and fees you paid during the calendar year. Educational institutions are required to make fForm 1098-T available to students by Jan. 31, so contact your educational institution if you haven't received one by early February. Many schools make the student's form available online.
Manually Calculating Expenses
Even if you didn't receive a Form 1098-T, you can still claim educational expenses for tax purposes. You aren't required to attach a Form 1098-T when you file taxes, and you're free to manually calculate your educational expenses. However, calculating educational expenses isn't as simple as adding up all of your university payments. Certain expenses -- like room, board and health fees -- don't count as qualified educational expenses for tax purposes. Student tuition, fees, books and equipment purchases are eligible expenses if they were paid directly to the qualified education institution as a condition of enrollment.
Other Educational Benefits
You may have other education-related benefits that aren't part of the tuition and fees deduction on Form 1098-T. If you have a student loan, you can deduct the interest you paid from your taxable income. Keep an eye out for a Form 1098-E from your student loan lender or request an annual account statement. You can also take advantage of a qualified tuition program that allows you to earn tax-exempt interest on investments if you use the proceeds for educational expenses, commonly called 529 plans.
Photo Credits
Ryan McVay/Photodisc/Getty Images