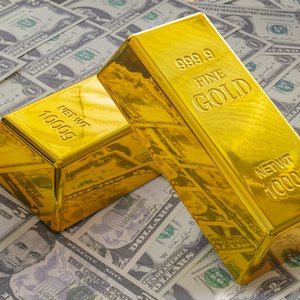 •••
Marvin Samuel Tolentino Pineda/iStock/GettyImages
In volatile economic times, gold becomes an attractive investment option. A brake against inflation, gold also remains stable – and even appreciates – in world markets when the U.S. dollar sinks. Furthermore, gold retains its value when world events seemingly spin out of control and cast a pall over other investments. It is, therefore, no surprise that many people own gold for their financial well-being.
Yet sometimes, on necessity, advice or other factors, gold owners see fit to cash in this precious metal that they hold physically. Getting as much as possible for gold means keeping your options open in terms of where to make the exchange.
How Do People Hold Gold?
You can own gold by holding gold receipts, which represent your asset that is deposited elsewhere. A more distant way to benefit from gold prices is to buy into gold-based derivatives that allow for the physical possession of gold at a future date. Most individuals who keep gold on hand, by contrast, usually possess modest amounts, the redemption of which can provide a needed infusion of money.
Gold bullion is generally held in the form of bars and/or coins. Jewelry, of course, may also contain gold. Investors should check the purity of coins before trading gold for money; pure gold should fetch more per ounce than 95-percent gold coins. In any event, they should at least consist of 92 percent gold. Gold bars, meanwhile, should be 99.5 percent gold with little supplemental alloy.
Jewelers are willing to purchase gold jewelry for resale. Yet you may run into the same problem you would with a pawn shop; they will buy low and sell high.
Find a Reputable Gold Dealer
Most states issue licenses for businesses to trade with second-hand precious metals. Those worth doing business with will fully comply with state standards and guidelines. These merchants have demonstrated competence and integrity with regard to appraisal, evaluation and business practices. Still, a license or certification is an entry threshold.
Comparison shopping is advised with gold dealers as with any service. Approach at least a few before agreeing upon an offer. Full disclosure: a well-established and professional gold dealer might take up to two weeks to close the deal on a purchase. Doing their due diligence, they will want to make sure the gold is not stolen.
Exchange Gold for Cash with a Pawnbroker
Technically, a pawnbroker is a moneylender who extends credit after taking possession of collateral such as musical instruments, jewelry, electronic appliances and devices. Should a customer fail to pay according to the agreement, the pawnbroker takes ownership of the collateral. Pawnbrokers refer to various sources as they appraise the items brought to them.
Each article that performs some sort of operation is tested to confirm it is working properly. In the case of gold, pawnbrokers may have experience but lack expertise. In such instances, they will be cautious and gold sellers may receive money well short of what they could get with a dealer. The upside is that payment will be instantaneous.
Will a Jewelry Store Purchase Gold?
Jewelers are willing to purchase gold jewelry for resale. Yet you may run into the same problem you would with a pawn shop; they will buy low and sell high. One way to bolster the gold price offered is for the seller to get the jewelry evaluated in advance by an appraiser. Members of Jewelers of America or other well-regarded trade organizations have access to association appraisal resources so are more likely to extend fair offers.
Approaching Web-Based Buyers with Gold
Since you have to send the gold by courier, make sure to insure the shipment and vet the dealer with the Better Business Bureau.
References
Writer Bio
Adam Luehrs is a writer during the day and a voracious reader at night. He focuses mostly on finance writing and has a passion for real estate, credit card deals, and investing.