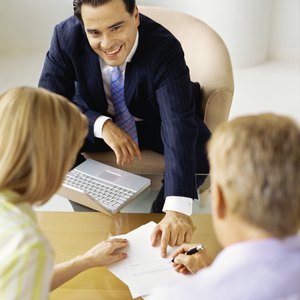 •••
George Doyle/Stockbyte/Getty Images
A simple change in circumstances, such as a major illness or job transfer, can take you from financial security to an uncertain future – making it a less-than-ideal time to purchase a home. Even if your finances are secure, there is no guarantee that the loan terms or interest rate you receive with your mortgage approval will fit your expectations. You are free to turn down an approved mortgage loan and walk away from the deal.
Time Frame
According to Zillow.com, the average mortgage loan takes anywhere from 21 to 30 days from approval to closing. After approving your application, the bank provides you with a good faith estimate. The good faith estimate gives you a breakdown of the costs associated with the loan. The lender will also provide you with paperwork explaining the loan terms and interest rate. Read and consider each of these documents carefully. If you don't agree with the loan terms or the lender's fees, it's easier and less expensive to turn down the mortgage before you close rather than attempt to refinance the loan later into a mortgage that better suits your needs.
Non-Refundable Fees
Don't expect to wait until closing to pay your lending fees. Banks require certain fees upfront from prospective buyers before moving forward with the mortgage loan. For example, your lender will generally charge upfront fees for the home appraisal or to lock in the loan's initial interest rate. You have the right to back out of the loan, but the lender has the right to refuse to refund any upfront fees you paid before changing your mind and walking away.
Buying the Property
Although you have the right to back out of the mortgage after your loan is approved, that doesn't mean that backing out of the purchase altogether will be as simple. Each state's laws regarding backing out of purchase contracts vary but, in general, you have a limited amount of time to change your mind and walk away from a purchase. Your purchase contract will note the circumstances under which you can back out without penalty. Should you back out of the sale after the contract deadlines pass, the seller may have grounds to seek legal action against you for breaching the contract.
Right of Rescission
You generally can only decline an approved mortgage loan before you close. After you sign the closing documents, you cannot change your mind. Refinanced mortgages, however, are an exception to this rule. If you refinance your home, the Truth in Lending Act grants you a right of rescission – permitting you to change your mind and decline the loan for up to three days after you sign the closing documents. Home equity loans and lines of credit also offer borrowers a three-day right of rescission. You are not entitled to the right of rescission if you refinance your home with the same lender that financed your original mortgage or the home you are refinancing is not your primary residence.
References
Resources
Writer Bio
Ciele Edwards holds a Bachelor of Arts in English and has been a consumer advocate and credit specialist for more than 10 years. She currently works in the real-estate industry as a consumer credit and debt specialist. Edwards has experience working with collections, liens, judgments, bankruptcies, loans and credit law.