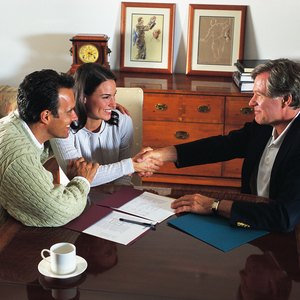 •••
Comstock/Comstock/Getty Images
Getting mortgage approval can be a stressful and time-consuming process. From the time you submit your loan application to the day of closing, there's a chance that problems will arise. While some problems are more fixable than others, delays can make you think twice before moving forward. If you decide not to proceed at all, you must notify the lender of your decision to cancel the loan.
Talk to your real estate agent before withdrawing your loan application. He can answer questions you have about the closing process. There may not be a penalty for canceling the mortgage loan. But unless you've included contingencies in the sales contract that offer you ways of getting out of the deal, you would be breaching the contract. That could cost you the earnest money deposit and maybe more if the sellers bring a lawsuit against you.
Discuss your concerns with the loan officer handling your mortgage application. By keeping the lines of communication open, you may be able to resolve the issue that is causing a problem. If you still want to cancel your mortgage application, explain the reasons why, since you might want to work with that same lender again in the future.
Cancel your loan application in writing. State that you do not want the mortgage loan. Submit your written request to the lender by mail, fax or in person. Include the loan application number in addition to your name, address, social security number and signature on the letter.
Pay the lender any fees you owe. Depending on how far along you are in the loan process when you cancel, you may already have incurred costs that would normally be paid at closing. While fees paid to third parties usually aren't negotiable, the lender may be willing to refund or waive other costs such as the application fee and credit check fee.
Refuse to sign the promissory note and mortgage or deed of trust at closing. You haven't closed on the deal until you've signed all the required documents. Granted, it's taking it up to the last minute, but the bottom line is you can walk away from the closing table if there are issues to settle or you aren't satisfied with all the loan terms. Besides any fees you might owe the lender, you will likely lose your deposit money if the contingencies included in the sales contract have been satisfied or waived. The seller may also seek additional monetary damages from you for defaulting on the contract.
References
Writer Bio
Amber Keefer has more than 25 years of experience working in the fields of human services and health care administration. Writing professionally since 1997, she has written articles covering business and finance, health, fitness, parenting and senior living issues for both print and online publications. Keefer holds a B.A. from Bloomsburg University of Pennsylvania and an M.B.A. in health care management from Baker College.