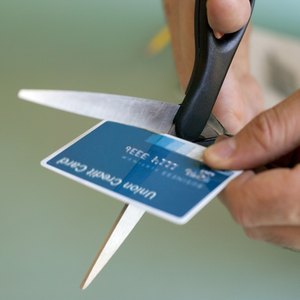 •••
Creatas/Creatas/Getty Images
Whether you still have to pay interest on a debt that a credit card company sells to a collection agency varies depending on the laws in your state. Credit card companies themselves have different rules regarding interest. But even when a collector has the right to charge interest, the maximum amount it can charge varies.
Selling Accounts to Debt Collectors
After you miss several payments, a credit card company often will write off the debt as a loss and then sell your account to a collection agency. Although credit card companies have different guidelines when it comes to handling delinquent accounts, many will sell the debt to a third-party debt collector after 180 days. Once the original creditor sells the account, it no longer tries to collect payment of the outstanding balance. But the collection agency can make a profit by attempting to collect the money from you.
Collection Agency Rights
A collection agency has the right to charge you interest on a delinquent debt it buys from a credit card company only if your credit card agreement or the laws in your state allow it to collect interest in addition to what you already owe, according to the Federal Trade Commission. Even while it attempts to collect the debt, the collection agency can report your account to the credit bureaus, and this will hurt your credit score and appear on your credit history.
Maximum Interest Rate
If your credit card agreement doesn't state a maximum amount of interest you can be charged, then state law sets the rate a collection agency can charge, according to Joe Ridout, Consumer Action's consumer services manager. The interest rates collectors can charge vary widely from state to state. For example, New Mexico allows collectors to charge up to 15 percent interest, while Texas only allows 6 percent. But if your credit card agreement specifies an interest rate, the collector can charge that rate even if it's higher than the limit set by the state.
Negotiating the Debt
Collection agencies often purchase credit card debts for 4 to 7 cents on the dollar. Consequently, you may be able to negotiate to settle the debt for less than the balance -- often for less than 50 percent of what you owe. In many cases, a payoff eliminates the interest that has been added to your account balance. Ideally, a collection agency will give you the best rate if you can afford to pay a lump sum, although many debt collectors will still work with you to negotiate a payoff under a payment plan, notes Bankrate bankruptcy adviser Justin Harelik.
References
Writer Bio
Amber Keefer has more than 25 years of experience working in the fields of human services and health care administration. Writing professionally since 1997, she has written articles covering business and finance, health, fitness, parenting and senior living issues for both print and online publications. Keefer holds a B.A. from Bloomsburg University of Pennsylvania and an M.B.A. in health care management from Baker College.