How Can I Get a Copy of My 1040?
by Grace Ferguson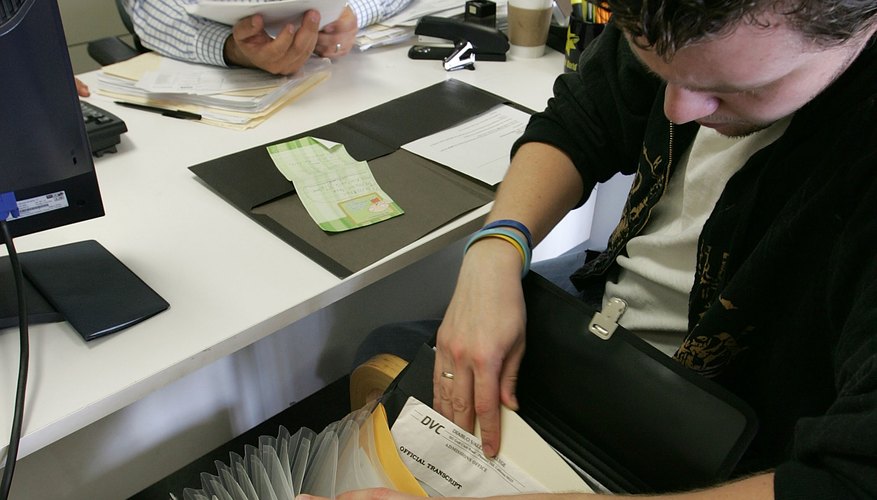 If you cannot find your tax return, you may request it from the Internal Revenue Service. The agency says in most cases a transcript of your tax return will suffice, such as if you are applying for a mortgage or student loans, or for citizenship with the U.S. Citizenship and Immigration Services. The transcript does not include attachments, such as W-2s, that were filed with your original return on Form 1040. You may, however, request an actual copy of your 1040, which has all attachments.
Photocopy
Obtain Form 4506, Request for Copy of Tax Return, from the IRS website.
Complete the form by entering the requested information. If you want the return delivered to a third-party, such as a mortgage company, state the third-party's information on line 5. On line 6, say you are requesting Form 1040. On line 7, write the years of tax returns that you need. You may request tax returns for up to seven years from the date they were filed.
State the total fee, which is $57 per tax return as of date of publication, on line 8. Sign and date the form. If the request is for a joint return, either spouse's signature is acceptable. Mail your payment and the form to the address that matches your state of residence on page 2 of the form. Give the IRS up to 60 days to process your request.
Transcript
Retrieve Form 4506T-EZ, Short Form Request for Individual Tax Return Transcript, from the IRS website.
Include the third-party that you want the transcript sent to, if applicable, on line 5. On line 6, state the years of transcripts you are requesting. You may ask for the current year return and returns processed within the last three processing years. Though the transcript does not include return attachments, it has most of the data filed on your original return. It does not show penalties assessed, adjustments made to the original return or payments made on your account.
Sign and date the form. For joint-return transcript requests, either spouse may sign the form. Mail or fax the form to the address or fax number listed on page 2. Give the IRS up to 10 business days to process your request. There is no fee to request transcripts.
Photo Credits
Justin Sullivan/Getty Images News/Getty Images