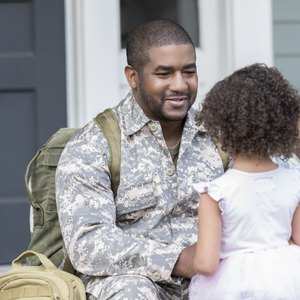 •••
asiseeit/E+/GettyImages
Serving your country in the military is a valued sacrifice. To show appreciation, the government tries to ensure you and your loved ones are well taken care of. A serviceperson's spouse and children are entitled to those benefits, including health care, shopping at on-base shops, access to recreational facilities on military bases and more. But if the person living with you is a sibling instead of a spouse, extending those benefits can be complicated, but it is still doable.
If your sister meets the qualifications established by the IRS for dependents, then she can be claimed as such and receive the eligible military benefits.
About Secondary Dependents
When you list an adult, nonspouse family member as a dependent, Defense Financing and Accounting Services labels them "secondary dependents," which means they are entitled to enjoy the same benefits as a spouse. However, this distinction is limited to parental guardians. This means that unless your sister served as a parent to you for at least five years before your emancipation, she won't qualify.
She may, however, qualify if you can show that the court placed her in your custody for at least one year. In addition to that qualification, the sibling must earn an income equal to less than half of actual living expenses. This demonstrates that the sibling is dependent on you and that your income pays for more than half of her total monthly expenses.
Minor Siblings
If your sister is under the age of 18, the rules shift slightly. The military will allow you to add a child sibling as a dependent. The same applies to brothers, nephews, nieces and any other family members who rely on you. However, you'll need to be aware of what rules will apply once that child reaches adulthood, since even your own children will "age out" of your benefits once they reach 21.
To add your underage sister as a dependent, you'll need to bring proof of the court order granting guardianship of your sibling to you. You'll also need to provide a birth certificate for the sibling and submit it all with DD Forms 137-7 and 1172.
Dependent ID Cards
Once the military has agreed to your dependent request, your household will be a step closer to accessing the associated perks. The Department of Defense will issue an ID to every eligible family member. This card will be tan in color and will allow your dependents to enjoy the commissary, exchange and other military base activities.
Additionally, your sibling will be added to your health plan, which means she'll have TRICARE insurance benefits. Your family members can choose either TRICARE Prime or Select. As the military member on your plan, you will be automatically enrolled in TRICARE Prime. With TRICARE Prime, you'll both get lower-cost medical services, but you won't have the provider options your sister will if she chooses TRICARE Select. With Prime, you'll both be required to see a primary care physician before seeking the help of a specialist. In general, your family's care will be administered in a military facility, but you may be able to get help in a civilian medical practice from time to time if necessary.
References
Writer Bio
Stephanie Faris has written about finance for entrepreneurs and marketing firms since 2013. She spent nearly a year as a ghostwriter for a credit card processing service and has ghostwritten about finance for numerous marketing firms and entrepreneurs. Her work has appeared on The Motley Fool, MoneyGeek, Ecommerce Insiders, GoBankingRates, and ThriveBy30.