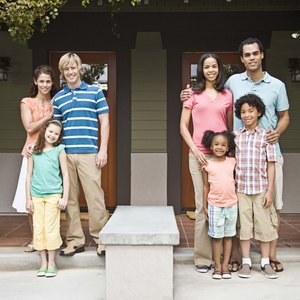 •••
Jupiterimages/Stockbyte/Getty Images
The Federal Housing Administration arose from a national need for affordable housing and viable homeownership opportunities. The FHA, now an agency within the Department of Housing and Urban Development, insures loans originated by private, approved mortgage lenders. It guarantees lenders repayment if a borrower defaults. As a result, homebuyers can purchase single-family and multifamily properties with a low down payment. The FHA insures loans for multifamily properties through various programs.
Multifamily Housing Defined
A multiple-family building or structure houses more than one family in separate units. The most common types of multifamily housing consists of apartment buildings; however, 2- to 4-unit properties -- duplexes, triplexes and fourplexes -- also qualify as multifamily housing, according to the Business Dictionary. HUD designates FHA-backed financing for 1- to 4-unit dwellings through its Section 203(b) and 203(k) mortgage insurance programs. Most FHA homebuyers use this program, which is intended for non-investors. The FHA also insures loans for certain nonprofit and government-entity investors, however.
203(b) Loans for Multifamily Housing
A Section 203(b) loan allows you to buy a 2- to 4-unit property if you intend to live in at least one of the units. More than one family can co-borrow on a loan to qualify for financing, and each holds title -- an ownership interest -- in the multifamily property. You can rent out the remaining units and use a portion of the estimated rental income they generate to qualify for the loan. A 203(b) loan is used to purchase housing in habitable, HUD-acceptable condition. This means homes in need of critical repairs to electrical, plumbing, or structural components do not qualify.
203(k) Loans for Multifamily Housing
A 203(k) loan, also known as a rehabilitation loan, is used to buy uninhabitable properties, or properties that need to be repaired to HUD standards. A 203(k) purchase loan includes additional funds for property rehabilitation and improvements after closing. You can convert a property into multifamily housing, up to four units, using the 203(k) loan. The conversion project must adhere to local zoning ordinances and new units must be attached to the primary unit. Detached "accessory dwelling units," also known as "in-law suites" or "granny flats," do not qualify if structurally separate from the main unit. Also, an FHA appraiser determines whether a home's accessory dwelling suite qualifies as an independent unit meeting HUD standards.
Investors and Multifamily Housing
Because FHA's focus is to help low- and moderate-income borrowers attain homeownership, it prohibits private, for-profit investors from benefiting from its 203(b) and 203(k) programs. Approved nonprofit investors and government entities, however, can purchase multifamily homes using FHA-backed loans. These FHA buyers can buy multifamily housing that has been foreclosed and is owned by HUD, at a discount of up to 30 percent. As a result, the investors can repair and re-sell the properties to first-time buyers and low- to moderate-income buyers.
References
Writer Bio
Karina C. Hernandez is a real estate agent in San Diego. She has covered housing and personal finance topics for multiple internet channels over the past 10 years. Karina has a B.A. in English from UCLA and has written for eHow, sfGate, the nest, Quicken, TurboTax, RE/Max, Zacks and Opposing Views.