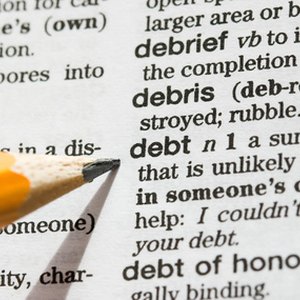 •••
debt defined image by Christopher Walker from Fotolia.com
There are two primary ways to invest in the stock market: stocks and bonds. Stocks represent ownership in the company, while bonds represent a debt to the issuer. Within the debt world, also known as the fixed-income world, a variety of financial instruments qualify as debt, since they do not represent ownership. Straight debt is debt that pays interest for use of funds over a period of time. An example of this is a standard corporate loan or a bond issuance. Hybrid debt products, such as callable bonds, preferred stock and even operating leases (in some cases) are not considered straight debt.
Request the annual report or the financial statements of the company. Specifically you will need the balance sheet and the notes to the balance sheet, which will provide details on the type of debt listed.
Turn to the balance sheet. Look up the amount for total liabilities. This is total debt for the company. It includes all forms of debt, including accounts payable, which is a "current" liability; that is, a debt that will become due within the fiscal year.
Go to the notes to the financial statements. You will find notes on almost every line item on the balance sheet, especially debt. Look for a note on long-term debt.
Sum the amount for long-term debt. This includes all straight bonds (not callable) and bank debt (loans and lines of credit).
Subtract accounts that the company does not need to pay interest on, such as accounts payable, income tax payable, accrued liabilities and even the current portion of long-term debt. This is the straight debt value. See Resources for an example of a balance sheet and accompanying notes. Straight debt value for the company in that example is long-term debt of $86,100 in 2002.
References
Writer Bio
Working as a full-time freelance writer/editor for the past two years, Bradley James Bryant has over 1500 publications on eHow, LIVESTRONG.com and other sites. She has worked for JPMorganChase, SunTrust Investment Bank, Intel Corporation and Harvard University. Bryant has a Master of Business Administration with a concentration in finance from Florida A&M University.