How to Calculate Daily Stock Return
by Bryan Keythman ; Updated April 19, 2017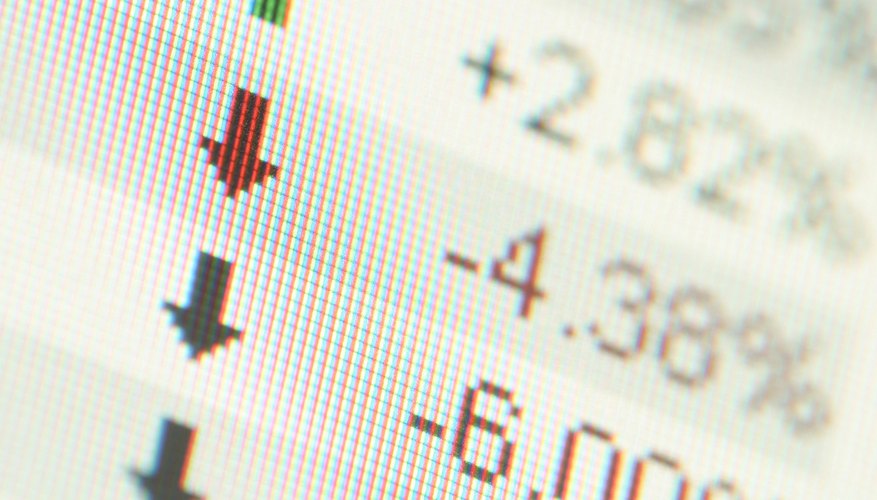 Stock prices change on a daily basis, altering the value of your investments. You may calculate daily stock returns to monitor the magnitude of this change. The daily return measures the dollar change in a stock's price as a percentage of the previous day's closing price. A positive return means the stock has grown in value, while a negative return means it has lost value. A stock with lower positive and negative daily returns is typically less risky than a stock with higher daily returns, which create larger swings in value.
Step 1
Visit a financial website that provides stock price information.
Step 2
Type a company's name or its stock's ticker symbol into the text box required to search for stocks. Click the search button next to the text box to bring up its information. A ticker symbol consists of one or more capital letters and is an abbreviation of the company's name or something related to its business.
Step 3
Find in the historical prices section the stock's closing price for any two consecutive days. For example, assume a stock's closing price was $36.75 yesterday and that its closing price was $35.50 the previous day.
Step 4
Subtract the previous day's closing price from the most recent day's closing price. In this example, subtract $35.50 from $36.75 to get $1.25.
Step 5
Divide your Step 4 result by the previous day's closing price to calculate the daily return. Multiply this result by 100 to convert it to a percentage. Continuing with the example, divide $1.25 by $35.50 to get 0.035. Multiply 0.035 by 100 to get a 3.5 percent return for that day. This means that the stock's price increased by 3.5 percent over the previous day's closing price.
Tips
Calculate a stock's daily returns over a period of time, such as one year, to understand how much its price moves on an average day and the range of daily returns.
Photo Credits
Hemera Technologies/AbleStock.com/Getty Images