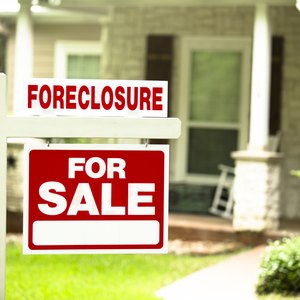 •••
fstop123/iStock/GettyImages
A house is the biggest investment you'll ever make. If you get a great deal in a hot real estate market and hang onto it long enough, though, you can make a hefty profit on that investment. Making a foreclosure purchase is one way to get a house at well below market value.
What Is a Foreclosed Home?
When you buy a house, you typically need a loan to cover the six-figure cost. You'll make mortgage payments on a monthly basis. If you stop paying, eventually the bank takes the home in a process known as foreclosure.
A foreclosed home is one the bank has taken over due to a series of missed payments. The homeowner is typically given plenty of notice, and at some point is required to vacate the home. The bank then puts the property on the market to sell it and recoup at least some of its financial loss.
How Foreclosures Work
Before homebuyers see a foreclosed house on the market, the loan on that home has usually been in default for a while. A lender generally makes every attempt to work with the borrower to get the loan in good standing. The foreclosure process starts around ​three to six months​ after the first missed loan payment.
Although foreclosures can vary from one state to another, there are ​three types​ of foreclosures.
​Judicial foreclosure:​ This is a foreclosure that goes through the courts. The lender files a lawsuit, and if granted, the homeowner gets a notice of ​30 days​ to pay the past-due amount to avoid foreclosure. The sheriff's office or local court then sells the property through public auction.
​Power of sale​: If a homeowner's contract includes something called a power of sale clause, the lender has the right to seize the home if payments aren't made. The lender then follows its own timeline, sending out a series of notices before proceeding to foreclosure. In some cases, local laws require the lender to get the process approved by the court before the foreclosure can proceed.
​Strict foreclosure:​ In a few states, the lender is allowed to sue the delinquent homeowner. The court then establishes a timeline. If payment isn't made by the end of that timeline, the mortgage goes back to the lender. Strict foreclosures usually only take place when the amount due is higher than the property's value.
Types of Foreclosed Homes
Before you start the foreclosure homebuying process, it's important to look at the various levels of foreclosure. The biggest difference between them is who is in control of the house at the time you purchase it.
​Pre-foreclosure:​ Homeowners don't have to wait for a property to go into foreclosure. They can sell a home on their own and pay the bank the difference.
​Short sale:​ In a short sale, the lender agrees to accept less money than the homeowner owes. If the property value has dropped, for instance, you might not be able to sell the home for what you owe. In some cases, the lender agrees to take less to avoid going through the foreclosure process.
​Sheriff's sale:​ In a judicial foreclosure, a home is repossessed through the court system. In that case, the property may be sold through something called a "sheriff's sale." Buyers purchase the property from the sheriff, whose department prepares the deed and takes payment.
​Bank owned:​ Also known as a real estate owned (REO) foreclosure, this sale is handled by the bank that has taken over the property. The bank is looking for the best price it can get to minimize its losses.
​Government-owned​: In these foreclosures, a government agency has possession of the home. If the original loan was government-sponsored through the Federal Housing Authority with an FHA loan, for instance, the FHA may manage the foreclosure process.
Where to Find Foreclosed Homes
At one time, it took some legwork to buy a foreclosed property. But thanks to the internet, it's easier than ever to track down short sales, homes in pre-foreclosure and foreclosed properties. You just need to know where to look.
​Real estate agent:​ If you're working with a real estate agent, mention that you're open to foreclosed properties. Agents have access to real estate resources you don't, especially if you're working with a licensed REALTOR®.
​Foreclosure specialist:​ If you're serious about getting a great deal on a foreclosed property, you might want to hire a real estate agent who's a foreclosure specialist. Certified agents have the designation of SFR®, which stands for the Short Sales and Foreclosure Resource® certification.
​Real estate sites​: You can search foreclosures on your own, in the comfort of your home. Some sites to check include the Zillow Foreclosure Center, HomePath and Realtor.com Foreclosures. You can also find listings on some mortgage lender websites specific to the properties they're selling.
​Foreclosure auction:​ Foreclosed homes are often sold at auction, either on the courthouse steps or at another public site. Auctions can be very competitive, so you need to show up prepared to buy. You can find foreclosure auctions through city or county public records, which should be available online.
Downsides of Buying a Foreclosure
If you've looked at homes for sale, you've probably noticed that a house is typically in top shape before buyers start touring it. The homeowner wants to get the most money possible out of the sale, so the rooms are squeaky clean, with walls freshly painted and damages repaired.
With an REO foreclosure, sheriff's sale or government-owned property, you probably won't find that attention to detail. These properties are usually sold "as is." In some cases, the homeowner may even cause damage to the property before being evicted.
Preparing to Buy a Foreclosure
It's important to prepare in advance if you plan to buy a foreclosed home. The foreclosure process is much more involved than a standard home purchase. Since it's so competitive, you need a preapproval letter in hand so that when you find a house you like, you have a better chance at getting your offer accepted.
If you're buying an REO or government-owned home through a real estate agent, you'll probably be fine going with a lender. However, if you're attending an auction, you may be forced to agree to a strict turnaround time. If you can't pay the full amount in cash, research the requirements ahead of time to make sure you can get the cashier's check or wire transfer from your lender in time.
Making an Offer on Foreclosures
Whether the home is in pre-foreclosure, being short sold or foreclosed, the offer process works the same as if you were buying any other property. There will likely be room for negotiation, but keep in mind that many foreclosures are already "priced to sell," so a lowball offer might be rejected. If the market is competitive, you may find that you lose the home by not being the highest bidder.
One area where foreclosure sales differ from standard listings is when they're sold through an auction. Keep in mind that you might be competing with professional property "flippers" who want to get a deal, renovate the house using their own resources and make a profit. They may be underbidding because they know how much work it will take to bring the property up to current market value.
Reducing Foreclosure Risks
No matter how good the deal on a foreclosed property, you can get into "money pit" territory pretty quickly. With a foreclosed home, a home inspection is more important than ever. The previous owner may not have kept up routine home maintenance as payments started falling behind.
Your real estate agent or the previous buyers may pressure you to skip the home inspection to make your offer more competitive. Mandate a home inspection, whether you're making an offer through a real estate agent or you're buying a foreclosed home at auction. If you're getting a loan to purchase the foreclosed home, your lender may require it.
Another requirement your lender may have is a home appraisal. Even if you're paying cash though, you should ask for an appraisal. You want to make sure the "great deal" you're getting isn't actually priced above market value.
Money for Renovations
Once the home inspector and appraiser have provided their reports, it's time to ask yourself some serious questions. If the home needs work, you'll have to put money into it. Try to get an estimate of how much those renovations will cost and make sure the work won't negate any cost savings you're getting by purchasing a foreclosure.
If you don't have the cash to make the renovations, check with your lender. You may find that with your mortgage and other debts, you'll be stuck with a home in need of repairs with no money to fund them.
Check for Unpermitted Work
One issue that can come up with any property you're buying, including a foreclosed home, is unpermitted work. That converted garage, finished basement or updated bathroom could have work that was never registered with the city. If you're paying cash for a home or your lender doesn't find out about the unpermitted work, it could come up later and cost you money.
Before you agree to participate in a home sale, scrutinize any updates that have been done to the home. Your real estate agent should know to do this, but make sure the seller provided a disclosure of any work that's been done on the house. Either you or your agent can pull permits from the city to make sure everything is on the up and up.
Responsibility for Liens
One issue with a foreclosure is any liens that could have been put on that property due to unpaid debts. REO properties and other foreclosed homes will typically have the lien related to the overdue mortgage cleared before the property changes hands. But that unpaid debt may not be the only lien your new home had on it.
If a creditor comes after you for the previous owner's lien, you could be responsible for paying it. A skilled real estate agent knows to search for liens and other title issues with a title search, but you can double-check if you want to be sure. Check with the local tax assessor and title company, and if the property is part of a homeowners association, contact the HOA to see if the property has overdue fees.
You can save money by purchasing a foreclosure, but it's important to thoroughly vet any home before you make an offer. A real estate agent can help you navigate the process so that you avoid potential dangers. But you can find foreclosed homes on your own and pay a property inspector and assessor to take a look at the place before you finalize your purchase.