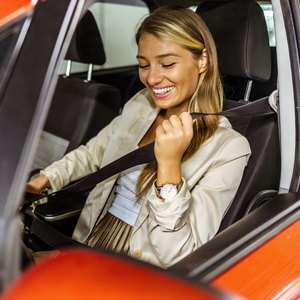 •••
Jelena Stanojkovic/iStock/GettyImages
The pandemic shutdown changed the way we do many activities. COVID affected every aspect of people's lives, from buying a house to taking a vacation.
The automotive industry was no different. And although Americans are climbing out of the coronavirus pandemic, decisions made by the automotive industry during the pandemic still influence the car buying process, which influences car sales.
Chip Shortage Interrupts Vehicle Supply
While Americans were in a pandemic lockdown, the automotive industry was pulling back. The fear was that car shopping would be the last thing on people's minds. Automakers thought the car market would be depressed because car shopping would cease.
The automotive industry took action and reduced chip orders. They also reduced orders for components and parts. Unfortunately, chip manufacturers had found other customers by the time the car market had revived.
A chip shortage is occurring for automakers because Americans working remotely now have a demand for web cameras, smartphones and other electronics. These products need chips. Chip manufacturers can't keep up, which has interrupted the supply chain.
The chip shortage for Americans contributes to an empty showroom and high prices.
Automakers Respond to Chip Shortage
The automotive industry has had to adapt to the chip shortage. The result is some automakers are deleting certain functions like seat warmers or rear seat climate controls to have vehicles available. Some of these deletions will be retrofitted later. At one point, the chip shortage forced manufacturers like Ford and Toyota to cease production temporarily.
Americans and Car Shopping Response
The chip shortage for Americans contributes to an empty showroom and high prices. The car market is booming, but finding an affordable new car or used car is challenging.
Unfortunately for the automakers, brand loyalty is disappearing as car buyers are willing to take what they can get. Thirty-one percent of car buyers were willing to give up on what they were looking for and switch brands.
More car buyers are shopping online, with dealers like Carvana, instead of going to a dealership. Others are willing to leave their area and go car shopping at an out-of-town dealership.
Dealerships and Pandemic Shopping
Some car dealers are making hay out of the recent interruption in the supply chain. With dealer lots almost empty, many car buyers are making car purchases without taking a test drive. And there's usually no haggle with the salesperson over car prices.
Although, eventually, this will right itself, it will take a while before the automotive industry can fill dealer lots again. And pent-up demand from car buyers waiting for high prices to fall will still be around.
Buying a New Car
In today's car market, car shopping for a new vehicle is more than just challenging; you're competing with other car buyers for the best new car available. Finding the exact car you want may not be realistic. But don't settle. Many car buyers are so desperate they're not taking a test drive. So, they're paying high prices without really knowing what they're buying.
Don't overpay for a new vehicle that doesn't meet your needs. But if you find one that checks most of the boxes, don't leave the dealership to think about it. In this car market, if you don't purchase what you want right away, it may not be there later.
Americans Have Sticker Shock
Unfortunately, it's common to pay over sticker price. The sticker price is the manufacturer's suggested retail price (MSRP). In January 2022, 82 percent of car buyers paid over sticker price. Americans in January paid an average of $728 over the MSRP.
And although some automakers have asked car dealers not to overcharge, a car dealer can ultimately charge what they want. Some car dealers are reluctant to gouge customers. They're the ones thinking about the long term.
Car Buyers Can Still Haggle
Car dealers may seem to have the edge, but car buyers still have some options. Used vehicle prices are through the roof, and there's a shortage. So your trade-in might actually be worth more than a new vehicle.
Haggle over what they're willing to pay you. If you must overpay for the new car, make sure you're making it up by selling your used car.
Besides your trade-in, there are other ways to negotiate when car shopping. Ask the car dealer if they'll throw in some free oil changes or accessories. Any extras you can get will help.
Patience When Buying New Vehicle
In this car market, patience pays off in car shopping. If you don't need the new vehicle right away, consider ordering it either through the dealer or directly from the automaker.
In some instances, automakers will still offer rebates or other incentives if you order your new vehicle. So you may have to wait for months, but you probably will save.
Buying a Used Vehicle
The car market for used cars has exploded. Some have higher car prices than new cars. That's because the lack of new cars has car buyers turning to used vehicles.
And though the first step of car shopping has always been to establish a budget, be prepared for when that SUV you wanted is $3,000 to $5,000 more than what you had in mind. If you can't afford it, you might have to purchase something else or wait.
Find a Used Car
Once you've established your budget, it's time to start searching for your used vehicle.
Three options for finding a used vehicle are a dealership and online services like Auto Trader, Craigslist or online like Carvana. Keep in mind that Craigslist may be a little more low end and you won't have a warranty.
Car dealers and used dealer lots often list vehicles on Auto Trader. It gives you the opportunity to go car shopping without leaving your home. Private sellers also list on Auto Trader. Since a private seller must pay to list, they're often a step up from Craigslist.
Evaluate a Used Vehicle
Start with just walking around the used vehicle. Look for rust or other body damage. Look in the car as well. How does it smell? If you smell mildew, it might have water damage.
Take the used vehicle for a test drive. How does it feel? Check for comfort and ease of driving. Make sure when driving, you turn the air conditioning on and test the heater. Keep the radio off and have silence in the used vehicle. Listen for any engine noises or other parts of the car making squeaks or bumps. Once you've taken it for a drive, check for any leaks.
Check the vehicle identification number (VIN) with this VIN Lookup. You don't want to purchase a stolen vehicle.
If you're at a new car dealership, ask about a warranty. Is the used vehicle a certified preowned vehicle (CPO)? These cars often have just come off a lease and have had good maintenance and low mileage.
If the used car ticks all the boxes, don't hesitate. It may not be there the next day or even the next hour.
Used Vehicle and New Vehicle Financing
Although the U.S. Federal Reserve raised interest rates, it didn't curb the desire for vehicles. Instead, the limited supply of new vehicles created demand. But a car loan is becoming harder to qualify for. Lenders are looking beyond credit scores. They want to see down payments and past payment history before giving a car loan.
But the credit score is still important when determining the amount of interest you'll be charged. The higher the interest, the more you're actually paying for that already high-priced vehicle.
When taking out a loan, be vigilant about your monthly payment. Your payment should not exceed 15 percent of your monthly net income.
References
Writer Bio
Anne attended University of Akron and went on to have a career in television sales. Working as a commercial property and casualty insurance agent for nine years allowed her to learn about different businesses' needs. She has also owned an advertising agency where she created marketing capaigns for various clients. Anne has written for several publications. She currently resides in Charleston, SC.