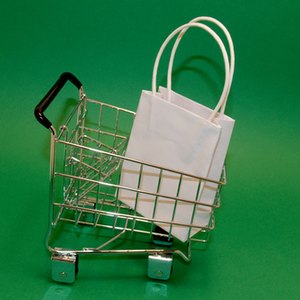 •••
cart with shopping bag image by Cora Reed from Fotolia.com
Buying wholesale direct is a way for consumers to save money. Wholesale is the sale of merchandise to retailers, industrial, commercial, institutional, and to other professional industries. While wholesale is traditionally closed to the public, there are methods for the general consumer to buy wholesale direct.
Benefits
Buying wholesale direct will get you a better price.
By buying wholesale products, you are able to purchase larger quantities of items and more of the items you want.
When purchasing wholesale, you are able to bargain with the seller for a better price or discount.
Buying wholesale direct is a way for small business or startup business owners to lower costs and get business going.
Public Access
You should network with family, friends and co-workers. Those in industries such as contracting, landscaping, plumbing, designers and jewelers have access to a variety of wholesale markets. Who you know may get you access to a wholesale warehouse.
Contact local wholesale suppliers. They may have access to the general public on certain days at certain times. Use the Internet or Yellow Pages to find wholesale retailers.
Join a local chain wholesale store. For a membership fee, the general public can have access to a wide variety of wholesale products. Consider Sam's Club or Costco.
Professional Access
Join professional groups and associations. Associations with similar interests as yours may have access to wholesalers.
If you are a business owner, apply for a business license. A business license will gain you access to wholesale warehouses, according to Bridget McCrea, author of "Start Your Own Wholesale Distribution Business."
References
"Start Your Own Wholesale Distribution Business," Bridget McCrea (Entrepreneur Press, 2006)
Writer Bio
Michelle Zehr started writing professionally in 2009. She has written on health, fitness, fashion, interior design, home decorating,sports and finance for several websites. Zehr possesses a Bachelor of Arts in communication from the University of Pittsburgh, a Master of Arts in professional writing from Chatham University and a graduate certificate in health promotion from California University of Pennsylvania.