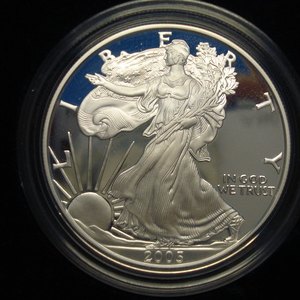 •••
American Eagle Silver Proof Coin image by Luke Haverkamp from Fotolia.com
Basically there are four sources from which you can buy silver eagle coins. They can be purchased directly from the U.S. Mint, they can be purchased from licensed coin dealers, they can be purchased locally from individuals, or they can be purchased on an auction site such as Ebay. As of this writing (June of 2010) the U.S. Mint has suspended direct sales of the silver eagle due to problems obtaining the silver blanks necessary for stamping the coins. This problem will be remedied, and direct mint sales will soon be an option again. In the meantime, purchasing silver eagles from a coin dealer, from individuals, or via online auctions are viable options. Silver eagles are produced in two varieties: proof (coins struck multiple times for an exquisite finish) or un-circulated (coins which have never been touched by human hands).
Study the American silver eagle market. Prices for silver eagle coins vary depending on the current price of silver on the world market and the year of the coin you purchase. Prices can also vary depending on the source of the coins.
Check with the U.S. Mint for purchases of the current year's coins. Figure in the cost of shipping and insurance when determining the cost per coin.
Contact several local reputable coin dealers and ask what their current price is for silver eagle coins (either uncirculated or the more expensive proof coins) for the year in which you are interested. Compare their prices as well as the price that you can get directly from the U.S. Mint. Keep in mind that coin dealers charge the current spot price for silver (the current silver quote on the Comex) plus a premium per coin. The premium can vary from dealer to dealer.
Advertise on Craig's List or in local papers that you are interested in purchasing silver eagles (either proof or uncirculated), and list the dates you are interested in. Negotiate the best price you can from individuals who contact you.
Arrange to meet individuals wishing to sell silver eagles in the lobby of your bank or in another safe location, provided that you can get a better price than you can from a licensed coin dealer.
Check prices on Ebay or another online auction site. Signing up to browse or to purchase on Ebay is easy and free.
Make your purchase from the Mint, a coin dealer, an individual, or on an online auction site based on the best price you can find.
Never agree to meet an individual selling coins at your home or in a deserted location. Always meet in a bank or a coin dealer's shop. Be aware that coins bought from individuals could be stolen. Be cautious of any deals that seem "too good to be true."