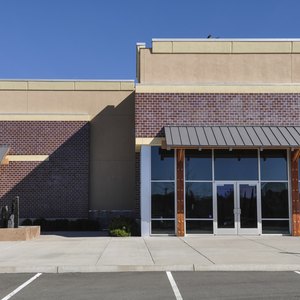 •••
bbourdages/iStock/Getty Images
Buying, as opposed to leasing, retail property gives the retailer greater control over the real estate cost component of its overhead. For investors, buying retail property provides an income stream, the potential for long-term asset appreciation and various investment benefits, such as depreciation of the property for tax purposes. When it comes to buying retail property, there's no one-size-fits-all strategy. You must carefully select the right property and assemble a team of experts to help you on your way.
Assemble a Team
A specialist commercial real estate broker can help you assess the viability of a location and identify potential properties. They can also help you figure out what you can afford. You'll need an accountant to unlock the operating cost and tax benefits of owning versus leasing retail space and an attorney to handle the paperwork. Finally, a commercial mortgage broker can sort through your financing options, including small business loans and grants.
Location Is Everything
Location is especially important to retailers who rely on a steady stream of foot traffic. You want to be close to your customers and convenient to your suppliers and employees. Start by conducting some market research to assess the local shopper demographic, household incomes and buying patterns, as well as the local competitive environment. State employment, business licensing, sales taxes and trading laws may also affect your bottom line. The Small Business Administration offers advice on locating your business.
Pick the Perfect Property
The property you chose must be the right size for your needs, or the needs of the retail tenants you will lease to. It's also important to make sure that the property is right for your business in the long-term. Check that there are no physical or zoning restrictions that prevent you expanding or changing the use of the property as your business grows. On the flip side, commercial property is an illiquid asset, which means it can be tricky to sell. Speak to your commercial broker about the long-term viability of the property. If you need a cash injection to revive your business's liquidity, you need to know that you can sell.
Practice Due Diligence
Once you've found the right property, it's time to do your homework. At this point, your expert team might bring in further experts such as appraisers and engineers to verify the condition of the property, assess environmental liability and handle any legal claims that might transfer to you at closing. The law relating to commercial real estate is complex and any number of problems could affect the price. Your attorney can give you the appropriate advice.
Figure Out Financing
Commercial lenders scrutinize your business as well as the real estate transaction, so you'll need sufficient cash reserves, a good credit rating and a profitable trading history to qualify for a loan. Commercial loans usually require a minimum of 20 percent down, and the principal is typically repayable as a balloon payment after 3, 5 or 10 years. Your accountant plays a key role here to ensure that your financing is structured to your maximum advantage.
References
Writer Bio
Jayne Thompson earned an LLB in Law and Business Administration from the University of Birmingham and an LLM in International Law from the University of East London. She practiced in various "big law" firms before launching a career as a commercial writer specializing in finance and tech. Her work has appeared on numerous financial blogs including Wealth Soup and Synchrony. Find her at www.whiterosecopywriting.com.