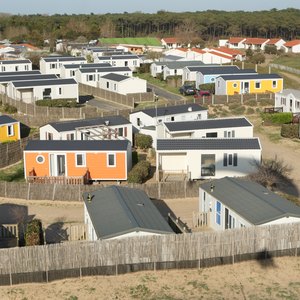 •••
Philippe DEVANNE/iStock/GettyImages
According to the California Department of Housing and Community Development, there are roughly 560,817 mobile homes in California as of May 1, 2020. As of April 15, 2021, data collection, there are only 363,803 active mobile home spaces in the mobile home parks throughout the state. Quite a few mobile homes are inactive in the state and potentially waiting for the right buyer to pick them up and give them a new life. Let's see what the requirements to buy a mobile home in California are and how to meet them for a smooth house buying process.
Know the Regulations Before Buying
Perhaps one of the reasons there are so many inactive mobile homes in California is because of the myriad regulations that the state has imposed on their owners. The mobile home park regulations can be found in the California Code of Regulations. There are countless regulations within this code but let's look at a few important ones:
Any accessory building or structure (i.e. awning, storage building, fence, porch) must be designed by a licensed architect and approved by a local building inspector.
Water lines that connect to the unit must meet California building standards and the components must be in accordance with California Factory-Built Housing Law to appease the California Health and Safety Code (section 19960).
Every unit must be equipped with an Earthquake Resistant Bracing System.
The National Fire Protection Association must perform an inspection to ensure non-combustible materials were used and fire safety items (i.e. smoke detectors) are in place.
You may notice that this list is very similar to those restrictions placed on home buyers as well. These are just a few general rules that apply when looking to buy a used mobile home in California. However, these regulations can vary greatly depending on what type of mobile home you are buying. The California Manufactured Housing Institute website has all the up-to-date information for current buyers.
Consider Costs Before Buying a Mobile Home in CA
On the surface, buying a mobile home looks like a financially smart investment for an individual or small family. This is especially true in the high-end real estate market of California. However, it is important to know all the factors that encompass buying a mobile home to make sure the overall cost is more affordable.
A few costs that you may not think about when you see a beautiful mobile home for sale:
The rent on the lot where the mobile home will reside can be astronomical. In some areas of California, a popular mobile home park could charge upwards of ​$1,000 a month​ for a lot.
Banks don't typically want to finance a mobile home. If you can find financing, be prepared to pay very high interest rates.
Mobile homes are like cars in terms of depreciation. They are not a good long-term investment if you want a return on your money.
Requirements to Buy a Mobile Home in California
Now that you know the risks and difficulties of buying a mobile home in California, let's see how it's done.
The first step is figuring out if you need an agent or not. A real estate agent can only sell a mobile home if it is stationary and fixed to a plot of land.
The next step is getting a loan on a mobile home. You may want to consider saving up and paying cash for a mobile home because banks don't like to finance them as mentioned above.
If you buy a mobile home as if it is a vehicle (not fixed to a lot of land), you will need to register the home with your city or state every year. In addition, you'll need the title to the mobile home.
Is it Worth Buying a Mobile Home in California?
Buying any home will take serious consideration and financial commitment. Mobile homes are no exception. If the pros outweigh the cons for your situation, then it is definitely worth buying a mobile home in California. Adversely, if the numbers don't add up, you might want to continue saving for a house and stick it out in a rental.
References
Writer Bio
With over seven years of freelance writing experience across a variety of genres, I have quite a bit of education and research to share with those looking for financial guidance. My personal experiences, including two house purchases, two paid off car loans, home refinance, and a Home Equity Line of Credit process, give me the practical knowledge to assist with large financial decisions. Meanwhile, budgeting everyday necessities for a family of seven focuses my expertise on daily savings. In addition, I have written financial articles for a top ranking finance site, Go Banking Rates.