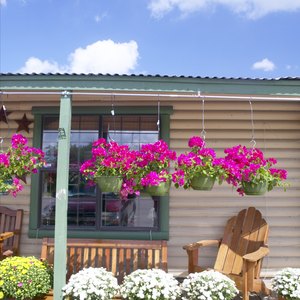 •••
Jupiterimages/Photos.com/Getty Images
The factory-built manufactured home of today has evolved in construction, energy efficiency and design from yesterday's traditional mobile home. Congress adopted the term "manufactured home" to replace the term "mobile home" and describe houses built in a factory under HUD federal building codes.
While consumers use these terms interchangeably and owners only move 8 percent of manufactured homes after they're placed on a parcel of land, ensuring their safety involves inspections at the factory, onsite during set-up and installation before move-in.
Exterior Inspections
Like a conventional home, inspecting the exterior of your manufactured home involves examining the roof for missing or damaged shingles and age. If the home is on a permanent foundation, check for levelness and cracks. Local laws will dictate foundation requirements for new manufactured homes.
Additionally, look for missing exterior trim or paneling and water damage. Check the condition of entry and exit doorways and steps. County codes will dictate their height and railing requirements. Check the surrounding area for low tree limbs, power lines or anything that could become hazardous in a high wind.
Interior Inspections
Review the interior of the home including windows, doors, light fixtures and walls. Inspect flooring for signs of worn carpet, missing or loose tiling or wood. Check the ceiling for discoloration and signs of roof leaks. Check for installed smoke detectors as well.
Visually inspect the fixtures in the kitchen and bathroom for leaks and good water pressure if the water is turned on at the home. Check electrical outlets noting their condition and if ground fault interrupters are installed near water service areas in the kitchen and bathroom.
Inspect included appliances noting age and condition. Make note of kitchen and bathroom counter tops and fixtures as well as caulking around baseboards, sinks, tub and shower.
Check the Utilities
Inspect the utilities servicing the home. Visually inspect connections coming from municipal water, electric and gas. Check that water and gas lines are free of rust or leaks under and around the home. If a septic system or an external propane tank are in service, refer to local guidelines and inspection requirements. Additionally, note if a private well is in use which may require a separate inspection. Inspect the electric service panel's exterior and inside for worn or broken breakers .
Determine the Wind Rating
Manufactured homes built before 1976 adhered to a general HUD wind rating created regardless of where the home would be used. In 1994, HUD created additional wind ratings designated as HUD Wind Zone II and HUD Wind Zone III. The Insurance Institute for Business and Home Safety recommends anchoring the home using HUD Wind Zone III guidelines to protect against winds up to 110 mph if a permanent foundation is not possible.
Read Remaining Warranties
For homes previously lived in, check remaining warranties that exist from the current owner. Manufacturers typically warranty factory installed appliances, electrical, plumbing or structural defects. A warrant may not cover problems that arise from improper installation or modifications. Note what and how long the manufacturer will guarantee repair or replacement of existing components and their service request procedures.
References
Writer Bio
Monica Dillon has more than 10 years experience in real estate sales, marketing, investing and appraising. She specializes in energy efficiency building practices and renewable energy. Dillon has been syndicated by the National Newspaper Publisher's Association. Her work has also appeared in the "Journal Of Progressive Human Services."