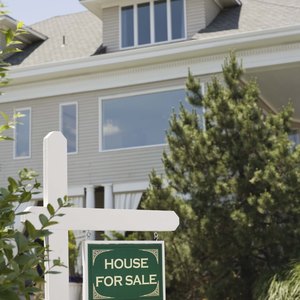 •••
Jupiterimages/Comstock/Getty Images
Buying a home out of state might seem like a daunting task, but the process is similar to buying one near where you currently live. It takes a bit more planning and preparation; thorough research helps you pick your top property choices and see them all during a single trip to the new state, rather than having to go back several times to find the right house. Checking with your bank first lets you know how much house you can afford, helping you narrow the field of prospects before you travel out there.
Use a National Bank for Preapproval
Talk to a national bank about loan pre-approval so you know your budget up front. Working with a bank that does business in both states -- the one you live in now and the one where you're buying a new house -- might help the lending process flow more smoothly, although many local banks and credit unions lend money for out-of-state purchases.
Depending on why you're buying a new house, you might have to pay a higher down payment than you expected or accept a higher interest rate. Investment properties, for example, might incur a higher down payment, but if you're purchasing a new primary residence, this might not be a problem.
Research Area Costs
Explore cost-of-living differences between your current city and where you plan to buy a house, especially if you hope to live or vacation in the new home. Large cities often have different costs of living depending on which area of the city you live in, so check options in various locations. This is especially important if you're moving to the new state -- if you make the same amount of money with a new job but move into an area with a higher cost of living, it's just like taking a pay cut.
Find an Agent
Contract with a buyer's agent in the city where you plan to move. A local buyer's agent is key to helping you find the right house. She can help you research areas with the best schools, lowest crime rates or proximity to a job or shopping, depending on your needs.
Ask About Property Restrictions
Research property restrictions on your top choices before you travel to look at them. If you're buying a rental property, for example, contact the homeowners associations to see if renting is an option in those neighborhoods. When the ability to install a new pool is important, check local and neighborhood rules to ensure it's a possibility before taking the time to look at the house in person.
Visit the Area
Travel to the new state to look at the top house choices that meet your needs. Your real estate agent can show you several in a day after helping you narrow them down. She also can find new choices on short notice if you aren't happy with any you see. The goal is to find the right house without making multiple trips, but don't rush into a decision; it's better to come back a second time than to accept a house that you don't like.
Hire a Real Estate Attorney
Ask your buyer's agent to help you choose a local attorney to handle the closing. Talk with the attorney about how to close without having to travel back to the state, if you desire. In many cases, you can fill out the paperwork in your current state, have it notarized and send it back to the attorney. Your lender wires the attorney the money for the closing, making your presence unnecessary.
References
Writer Bio
Based outside Atlanta, Ga., Shala Munroe has been writing and copy editing since 1995. Beginning her career at newspapers such as the "Marietta Daily Journal" and the "Atlanta Business Chronicle," she most recently worked in communications and management for several nonprofit organizations before purchasing a flower shop in 2006. She earned a BA in communications from Jacksonville State University.