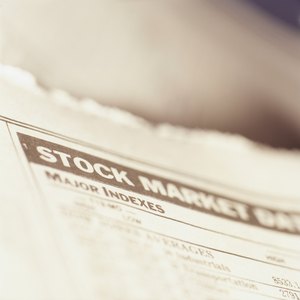 •••
Duncan Smith/Photodisc/Getty Images
In June 2020, Morgan Stanley signed an agreement to buy the discount brokerage firm E-Trade for $13 billion. The acquisition grants Morgan Stanley a new revenue source – namely, the trades of America's affluent who have savings, but not enough to hire a money manager. Morgan Stanley also gains a large share, to the tune of $360 billion in assets, of the online trading market.
While business will continue as usual for many E-Trade customers, the acquisition is likely to attract new asset-management customers as well. If you are one of the latter, here's some information on buying bonds to put you on firm footing when making your first online bond buy. For this purpose, we'll purchase a corporate bond directly, rather than indirectly through an investment in a mutual fund.
What's a Broker-Dealer?
E-Trade is a broker-dealer that operates a platform that, among other things, supports investors who trade a variety of financial assets, including bonds, online. If you have an E-Trade account, the broker-dealer grants you the access you need to buy and sell bonds.
Corporate Bond Basics
Preparing for Corporate Bond Purchase
To get ready to buy corporate bonds through E-Trade, use these steps:
Determine how much you will invest. Before you create your account, determine the amount of money you want to invest and the level of risk you're willing to tolerate. Equally important, set your short- and long-term goals.
Consider the bond. When buying a corporate bond, consider the company's credit rating, the bond's duration and the brokerage fee you'll pay when you buy the bond. In particular, the bond's duration is the time period you must own the bond to receive a full payout, or the principal and interest. To evaluate the broker dealer's fees, visit the Financial Industry Regulatory Authority website.

Open an E-Trade brokerage account. To make a bond purchase, if you meet certain criteria such as age, you can open an individual brokerage account and fund it. The process will require you to provide a variety of information, including your name and contact information, such as an address and email address.
Access the appropriate E-Trade investment tool. Read through the E-Trade research on bonds so you'll make informed investment decisions. The broker-dealer has tutorials, articles, videos and other resources to help you buy and sell bonds. Next access E-Trade's investment selection tools and ensure you understand the E-Trade purchase process because the process varies from one broker-dealer to another.

Buying Corporate Bonds
To buy a bond, look through the E-Trade bond listings to identify the bond you want to buy and its value. The bond price will vary from one broker-dealer to another, thanks to transaction fees and markups or markdowns. If you accept the price and have sufficient cash in your brokerage account, you can enter an order to make the bond purchase.
Once E-Trade receives your order, it executes the bond trade on your behalf. E-Trade will attempt to match your buy order with a sell order. When the match is made, the bond trade is executed. If a match can't be made, the trade will sit on the exchange until a sell order is available. The exchange relies on E-Trade to confirm the bond buy is a legitimate one.
E-Trade will handle the transfer of cash, as well as the regulatory and tax activities involved with your purchase. As the intermediary between you and the bond seller, E-Trade earns a commission for the service it provides.When the trade occurs, the exchange will message E-Trade confirming the trade is complete. Then, E-Trade updates your account portfolio with a record of the purchase and withdraws cash from your account.
Once you purchase your bonds, review E-Trade's research and analysis once more so you'll be prepared to change your investment strategy if need be.
References
Resources
Writer Bio
Billie Nordmeyer is an IT consultant of 25 years standing. As a senior technical consultant for SAP America and Deloitte Touche DRT Systems, a business analyst, senior staff, and independent consultant, Billie has worked across the retail, oil and gas, pharmaceutical, aeronautics and banking industries. Billie holds a BSBA accounting, MBA finance, MA international management as well as the Business Analyst and Software Project Management certificates from the Cockrell School of Engineering at the University of Texas at Austin.