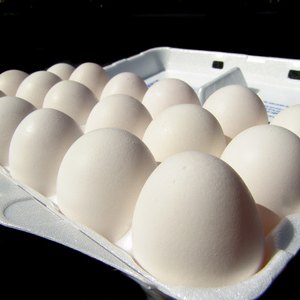 •••
carton of eggs image by Photoeyes from <a href='http://www.fotolia.com'>Fotolia.com</a>
Michigan's Food Assistance Program provides money to qualifying individuals who earn low income, so that they can buy food and necessities. The benefits come in the form of a "bridge card." The card looks like a standard credit card; it has a magnetic strip on the back containing an individual's food assistance budget. Bridge card holders swipe their cards to purchase necessary items.
Income Requirements
Households must meet certain income restrictions to be eligible for a Michigan bridge card. For purposes of the card, a household includes all persons who live together and purchase or prepare food together. The Michigan Department of Human Services examines the income earnings of each member of the household in order to make a determination. Michigan does not use a set standard to define "low-income"; rather, the Department of Human Services examines all income including child support, unemployment benefits, and social security benefits. When applying for the bridge card, you must disclose all sources of income on your application.
Persons Not Eligible for Bridge Cards
Even if a household meets the income requirements, some people may not be allowed to receive food stamps. Illegal or undocumented immigrants are not eligible for bridge cards. Additionally, if you or someone in your household has been taken off assistance in the past for intentional program violations or for offering fraudulent information, you may not be eligible to receive a bridge card.
Fill Out the Bridge Card Application
If you meet the income requirements and you are not ineligible for any reason, you can fill out an application to obtain a bridge card. The application is standard. You must list your name, gender, date of birth, social security number, and address. In the second part of the form, you must provide information about your household and your income. If necessary, a member of Michigan's Department of Human Services will contact you for further information. If denied benefits, an appeals process is available. Bridge cards must be renewed annually. The Michigan Department of Human Services is available to help you complete your application; contact them by calling 517-373-0707.
References
Resources
Writer Bio
Based in Traverse City, Mich., George Lawrence has been writing professionally since 2009. His work primarily appears on various websites. An avid outdoorsman, Lawrence holds Bachelor of Arts degrees in both criminal justice and English from Michigan State University, as well as a Juris Doctor from the Thomas M. Cooley Law School, where he graduated with honors.