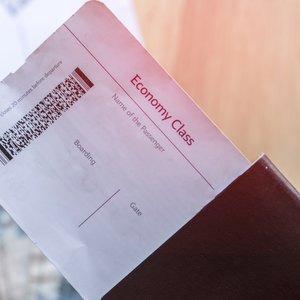 •••
Peerawat Kamklay/Moment/GettyImages
When you're planning travel that involves flying, finding the flight you need at a competitive price can take some time and effort. Using a credit card to pay for an airline ticket has some advantages, both in the near and far term. By examining terms of your credit cards, you can find the best one to use for your flight financing.
Price Assurance Programs
The way consumers shop for airfare involves lots of checking and rechecking to see whether fares have gone up or down. It's always a bit of a gamble to finally decide a fare is as low as it's going to get and proceed with the purchase. If the fare goes down after you've bought your ticket, you could be out of luck. Some credit card companies understand this process and make it easy on the consumer with price assurance programs. By enrolling in the program and entering your purchased flight details into the credit card's tracking tool, you can get alerts about price drops. The credit card company can help you deal with the airline to change your reservations and get an adjusted refund.
Trip Cancellation
Issues come up that could force you to cancel your flight. Some credit cards, including the Chase Sapphire Reserve and Citi Hilton HHonors Reserve, offer trip cancellation insurance, which could help you recover your ticket costs. Before using a credit card to buy a ticket, find out whether the credit card company offers trip cancellation insurance. Approximately 15 percent of all credit cards offer this protection, says CardRates.com. Your reason for cancelling will need to jibe with insurance terms as well.
Luxury Benefits
Some credit cards offer luxury benefits. For instance, Visa Signature and American Express Platinum line cards offer concierge benefits. Check with your credit card company to find out whether you can claim vacation benefits such as restaurant recommendations and reservation services, vacation-planning assistance, rate discounts at specific hotels, and hotel upgrades and extras such as free Wi-Fi, valet parking, continental breakfast or late check-out.
Insurance Perks
Various types of insurance can benefit you while traveling, and using a credit card for your airfare purchase can help you claim insurance perks. No one wants to go through a lost-luggage fiasco with an airline, but using your credit card for airfare purchases can give you lost-luggage insurance for your flights. Travel-accident insurance is another possibility if the unexpected occurs during your travels.
Earning Rewards
Many credit card companies try to entice big spending on credit cards by offering rewards. When you use your credit card for airfare, your credit card company might even up the ante by increasing the points or other rewards you earn with your purchase. For instance, branded credit cards from airlines like the Alaska Airlines Visa Signature card or the Gold Delta SkyMiles Credit Card from American Express offer extra miles for spending on the linked airlines, while other cards like the Chase Sapphire Reserve or Capital One Venture Reserve cards offer credits specifically redeemable for travel.
References
Writer Bio
Kathryn Hatter is a veteran home-school educator, as well as an accomplished gardener, quilter, crocheter, cook, decorator and digital graphics creator. As a regular contributor to Natural News, many of Hatter's Internet publications focus on natural health and parenting. Hatter has also had publication on home improvement websites such as Redbeacon.