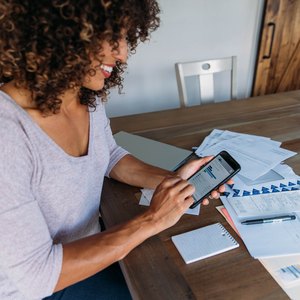 •••
RichVintage/E+/GettyImages
"Free" can be a relative concept, particularly when it comes to checking accounts and banking. Getting something from a bank for nothing is often linked to managing your account in a certain way, such as by maintaining a minimum balance or having a certain number of dollars directly deposited each month. These are "conditional" no-fee accounts, not technically the real deal.
A true no-fee checking account won't cost you anything in the way of monthly maintenance fees, with or without meeting other requirements. In fact, this is the official definition under the federal Truth in Savings Act: There can be no routine fees, such as maintenance fees, activity fees, or minimum balance requirements.
You might nonetheless have to pay something if you take any missteps, however, such as overdrawing your account. These aren't considered to be routine fees.
Either way, choosing the best "free" checking account comes down to your priorities. Those minimum balance requirements might not matter to you if you regularly maintain a pretty high balance. You might be more concerned with overdraft fees and other perks, or the lack of them.
Watch for These Common Fees
Your first challenge is to identify whether an account is really free. This starts with understanding the type of fees – hidden or otherwise – you should be on the alert for. All told, fees can add up to more than $40 a month if you're not careful, so "free" won't really mean "free." It means, "Free, as long as you follow the rules."
The most common fees include:
Monthly maintenance fee: Genuinely "free" banks never charge one. Others will ding you if you don't maintain a minimum monthly balance. Still others will waive the fee if you commit to receiving a certain number of direct deposits each month. Still others will withhold paying interest on your checking account if you don't meet the minimum balance requirement. This monthly fee can end up costing you in the neighborhood of $15 a month or so if you fall victim to this one.
Activity fee: This is typically tied to how many checks you write a month from your bank account. You'll have to pay up if they start adding up. The flip side is that you might also be hit with a fee if you don't use your account enough.
ATM fees: These come into play when you swipe your debit card at an ATM that doesn't recognize your bank. You've gone "out of network" for your ATM withdrawal. Worse, both your bank and the ATM company might hit you up for a fee in this case. They're usually just a few dollars, if that, but they can add up if you're a frequent ATM user. If there's any good news here, it's that some banks have ATM fee reimbursement or fee-free ATMs.
Overdraft fees: These are a slap on the risk for spending more money than you had in your account balance. You can be charged these fees for insufficient funds regardless of whether your bank actually honors and pays the charge or covers the check. Bankrate found in a 2019 survey that the average overdraft fee was in excess of $33, and CNBC reports about the same. Banks generally aren't too generous about this one. If you mess up, you'll probably pay for it.
Paper statements fee: Prepare to dedicate yourself to managing your money through online banking if you want to dodge this one. It's charged if you like to do things the good, old-fashioned way and receive a paper statement of all your monthly transactions each statement cycle in the mail. This one can run you about $5 a month.
And here's one last hurdle on the path to freedom: Your bank might also hit you with an account closure fee if your freebies don't turn out to be exactly what you expected and you close the account within three to six months.
It's Not Just About Savings on Fees
Your choice of a bank might also depend on what you get in exchange for letting it hold your money for you. A perfect balance is a genuinely free checking account with a bank that will also pay you at least some interest at a reasonable annual percentage yield on that account, but these can be few and far between. Again, conditions such as maintaining a minimum daily balance or receiving a certain number of direct deposits each month can apply.
Bankrate also found that about 42 percent of checking accounts that don't pay interest are considered free, so keep an eye out for this hitch. You might want to keep minimal funds in your checking account and stockpile your cash in a separate high-yield savings vehicle or savings account if you normally maintain a pretty high balance. It could be more cost effective.
So, how do some major banks and their free checking products compare, keeping all these factors in mind?
Capital One scores pretty high in most areas. In fact, CNBC and Business Insider both ranked its 360 Checking account the best no-fee option out there.
The account is an interest checking account, paying interest – not much, but some, and better than most other banks at about 0.1%. There's no minimum balance requirement to keep your account free of fees, and you can avoid overdraft penalties in a few ways, too, because the bank offers various overdraft protection options to help you protect against overdrawing your account.
You shouldn't encounter too much in the way of ATM fees, either, because Capital One debit card transactions are free at 39,000-plus Capital One and Allpoint ATMs. But Capital One won't reimburse you if you go out of network, so you are hit with a fee. Your first checkbook order is free, however, if you want to write paper checks instead.
Capital One also has a decent mobile app if you're the type who likes to keep your thumb on your finances while you're on the go through mobile banking, but you probably won't get far with this account if you have to reach out to customer service via telephone. Phone access is limited, but Capital One does offer numerous Capital One Cafés across the country where you can reach out for advice and customer service and enjoy a cup of coffee, too, while you're at it.
Ally Bank won a nod from Bankrate for its customer service, and that's notable given that the bank isn't raising a lot of money in monthly fees with which to pay its staff. CNBC ranks it a runner-up to Discover. It's comparable with Discover in that it pays 0.1% interest on its free checking account, and this can hike up to 0.5%, but only if you keep more than $15,000 in your account. The account really is free in the respect that there's no monthly maintenance fee, however.
Ally is also part of the Allpoint ATM network, so you'll dodge fees in this respect, at least if you use those ATMs. And it beats Capital One because it's hooked up with 43,000 of them. Not only that, but it will reimburse you up to $10 per month if you do get hit with out-of-network ATM fees. Not bad.
Ally edges Capital One in one other respect, too. All of your paper checks will be free, not just your first order. But it's an online-only bank with no physical locations if you need face-to-face assistance for some reason. Its website is nicely set up for mobile check deposits, however.
Alliant is a credit union, not technically a bank, but don't let that sway you. CNBC ranks it best for out-of-network ATMs. Alliant one-ups Ally when it comes to ATM perks because it will reimburse up to $20 if you incur any out-of-network fees each month – no balance or other requirements necessary.
Not only that, but its High-Rate free checking account pays an interest rate of 0.25% APY, but again, the term "free" is relative here. You must have at least one electronic deposit per month to qualify for this rate, and you must waive your right to receive paper statements. That said, there aren't any minimum balance or minimum direct deposit requirements. You need only meet requirements if you want that interest rate.
On the downside, Alliant only has physical locations in Illinois. And because it's a credit union, you must enroll as a member to use its services, but Alliant will donate $5 to Foster Care to Success, its partner charity, when you apply for membership. This donation is actually a requirement, but Alliant will foot the bill for you if you'd rather not pay it.
This free Chase checking account falls to fourth on our list because it's only available to college students who are 17 to 24 years old. That leaves out a pretty large swath of the population, and you'll need a student ID to prove that you're indeed in school in order to open an account. But Business Insider and CNBC both rank the Chase College account as the best free checking account for students.
Chase periodically throws out new account holder bonuses for this one, and that helped it make our list despite the account's other restrictions. It's paying $100 in 2020 if you make 10 transactions within 60 days of opening the account. These perks come and go, so check the website if you're thinking of opening an account. There's no telling what might be available at that time.
There are literally no service fees if you or your student meet these age and education requirements, but there's a catch. This status quo will remain in place for five years, after which time this is no longer a free checking account. It will run you $6 a month as of 2020 after this time if you don't maintain an average daily balance of $5,000 or you don't receive at least one direct deposit a month. Chase also charges a $34 overdraft fee.
It has only about 16,000 no-fee ATMs, and you'll pay a $2.50 ATM transaction fee if you can't find one, which negates some of that "free" status. The Chase College Account can't be accessed online in Hawaii, Puerto Rico or Alaska, but Chase offers nearly 40,000 physical locations.
Last but not least, there's Chime. This is an online-only bank, so it's necessarily lacking in physical locations, but it does provide a nice mobile check deposit app. The Chime free checking account accommodates more than 38,000 ATMs, and it promises to clear direct deposits more quickly – up to two days faster than other banks.
It falls to fifth place on our list because although its free account features and capabilities are similar to other banks, and it is indeed free, it doesn't pay any interest on checking accounts.
References
Writer Bio
Beverly Bird has been writing professionally for over 30 years. She is also a paralegal, specializing in areas of personal finance, bankruptcy and estate law. She writes as the tax expert for The Balance.