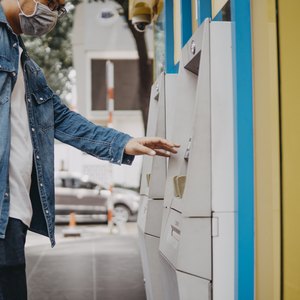 •••
NgKhanhVuKhoa/iStock/GettyImages
The way people go about banking has changed quite a bit. Today's sophisticated consumers are more discerning and require services like paperless statements, online banking or mobile app options and more favorable fees.
According to a recent CNBC article, banks raked in nearly $35 billion dollars in overdraft fees in 2019 alone. And, unfortunately, these costly fees disproportionately affect low-income customers most. However, you can avoid these fees by carefully managing your money, signing up for overdraft protection or finding a bank with no overdraft fees.
What Are Overdraft Fees?
Think of overdraft fees like a safety net; hopefully you won't need it, but it's there if you ever should. Although you'll be spared the embarrassment or hassle of a declined transaction, this safety net will generally cost you $30 to $35 per overdraft, unless you have a bank account with no overdraft fees.
Your bank's overdraft fee kicks in when a payment, electronic transfer or withdrawal – that would have otherwise been declined – is covered by the bank or credit union for you. Depending on the financial institution, the fees associated with covering would-be declined transactions can add up quickly.
For instance, if you have three transactions post to your account, and you don't have sufficient funds to cover them, you could be charged an overdraft fee for each item that posts to the account. And, in addition to the overdraft fees, you're still responsible for paying the initial amount that was covered by the bank.
Your bank's user agreement will also stipulate a limited time frame in which you have to repay your overdraft, and this varies by institution. However, if you're unable to repay your overdraft, you may receive an extended overdraft fee, and this puts your account in danger of being closed.
How to Avoid Overdrawing Your Account
The best way to avoid overdrawing your account is by making sure you have enough money to cover your transactions. However, this is easier said than done in the age of debit cards and automatic payments.
Even though you have more access to your account balances and money-management tools than ever before, a scheduled payment or swipe of a debit card for your morning cup of coffee can send you into the red before you know it. Fortunately, most banks and credit unions give you an option to transfer money from another account to cover these oversights, without triggering or requiring the overdraft fees.
By linking a savings, credit card or other funding source to your checking account, if you find yourself overdrawing your checking, the funds will be automatically transferred from one account to the other so you don't go into the negative. Although most banks do charge a fee for overdraft protection, it is generally lower than you'd expect to pay in overdraft fees for the courtesy of having the bank cover the transaction for you. In order to set up overdraft protection, log into your account or call your bank's customer service number.
Finding Banks With No Overdraft Fees
Finding a bank or credit union with no overdraft fees is as simple as doing an internet search. Banks generally offer several options for various types of accounts to suit their customers' individual banking needs. When you go to select a bank, be sure to read its user agreement carefully so you're not in for a surprise should you find your account overdrawn.
Bank of America Advantage SafeBalance
Bank of America is one of the most recognized names in banking. They're also widely known for their unrelenting overdraft and other account fees. In fact, Bank of America brought in $1.7 billion in overdraft and non-sufficient funds revenue in 2019. However, Bank of America also touts itself as having "one of the first banking accounts to eliminate overdraft fees" with its Advantage SafeBalance Banking® account. Geared towards college students, Advantage SafeBalance Banking was recently recognized by MONEY Magazine as "Best for College Students."
Low Monthly Fees: Bank of America's Advantage SafeBalance Banking has a low monthly account maintenance fee of $4.95. However, this fee is waived if you are an eligible student less than 24 years old and a member of its Preferred Rewards program.
Up-to-date Account Access: With an Advantage SafeBalance Banking account, you can use Bank of America's mobile or online banking to check your balance, pay bills and access money-management tools.
ATM Access: You can use your Advantage SafeBalance Banking debit card to withdraw or deposit money at any ATM in Bank of America's vast ATM network. As a bonus, Bank of America will even pay $2.50 for each non-Bank of America ATM transaction if you need to access your money at an ATM that's not part of Bank of America's network
Automatic Overdraft Decline: Although you won't incur overdraft fees with an Advantage SafeBalance Banking account, any transaction that posts to your account without sufficient funds to cover it will be declined automatically.
No Paper Checks: True, writing paper checks may be falling out of fashion, but there are instances where you may want or need to write one. This is not an option with an Advantage SafeBalance Banking account. You can, however, make payments with your debit card and Zelle.
Minimum Account Balance: Your Advantage SafeBalance Banking account does have a minimum account balance requirement of $25 and is not interest bearing. This means you will not earn any interest on the money you have in your Advantage SafeBalance Banking account.
Chime Spending Account
There is a reason why Chime consistently ranks at the top of the totem pole for fee-free and no-overdraft-fee banks – it offers everything most banking consumers want in a bank such as mobile access and no account maintenance, ATM or overdraft fees. Advertised as a banking solution for millennials, Chime fits in this generation's desire for straight-forward and transparent money management.
Opening an account with Chime is easy, but you must have a Chime Spending Account before you're able to open a Chime Savings Account. Both accounts are no-fee, and if you receive $500 or more per month in direct deposits, you can sign up for a service that Chime offers called SpotMe. With SpotMe, Chime will cover up to $100 in debit card overdrafts with no overdraft fees, and once your next direct deposit posts, your negative balance is repaid.
Zero Monthly Fees: With Chime, you can expect to pay zero monthly fees associated with your account, like maintenance, overdraft and foreign-transaction fees.
No Minimum Balance: There's no minimum balance requirement to have a Chime Spending Account, so you will not incur any maintenance fees when your balance falls below a certain amount.
Competitive Interest Rates: If you've been searching for a savings account that gives you more bang for your buck, then look no further. Chime offers its customers a respectable 1.00% APY on money you have deposited into a Chime Spending Account.
Get Paid Faster: Chime processes your direct deposit payments immediately and advertises that you can get your paycheck up to two days faster by making the money your employer deposits available to you right away.
No Brick and Mortar: Chime is an online-only bank, which means there are no brick-and-mortar locations for you to visit should you need to. While this is not necessarily a deal breaker for many, it is something to keep in mind.
Cash Deposits: Because Chime doesn't have brick-and-mortar locations, when you need to make a deposit you'll have to use Green Dot to load cash into your account. Take note, the fee to deposit cash into your Chime account in this manner can be up to $4.95.
No Paper Checks: You won't receive paper checks with your Chime Spending Account. However, if you need to send a check, Chime will do so on your behalf. But, you're limited to $5,000 per payment, and it can take anywhere from three to nine business days before it arrives.
Simple Online Checking
Like Chime, Simple is another online-only banking solution that operates with no fees or brick-and-mortar locations. And, also like Chime, a Simple Online Checking account has no overdraft fees because your debit card transaction will be declined if you have insufficient funds instead of covering it for a fee. There are cases in which Simple will let you go into overdraft, but you still won't be charged an overdraft fee. You will, however, be responsible for bringing your account out of the red.
Online-only banking may not be for everyone, but if you want a straight-forward banking app with plenty of money-management tools, then it may be just what you're looking for.
No Account Fees: Simple does not charge routine account fees such as overdraft or minimum balance fees, and if you find your account balance dipping a bit after a particularly fun night, you won't be charged account maintenance fees either.
Large ATM Network: Because Simple does not have brick-and-mortar locations, they don't have their own ATMs. However, Simple account holders do have access to more than 40,000 ATMs with no surcharge for domestic withdrawals.
Competitive Interest Rates: Like most online-only banks, because Simple doesn't have brick-and-mortar locations, it's able to pass these savings and competitive interest rates on to its customers. Simple offers competitive interest rates of 1.00% APY with its High-Yield Accounts.
No Brick and Mortar: If you're one of those banking customers who needs to speak directly to a teller in the branch, then Simple may not be for you. Like Chime, it's an online-only bank, so you'll have to do all of your banking online, through Simple's mobile app or on the phone.
No Bill Pay: Paying bills online through automatic payment is one key way to avoid becoming behind on your bills. However, with a Simple account, you can't do this. But, you can still use your debit card to pay your bills if you sign up for automatic payments with your payee.
Depositing Cash: Because you can't just walk up to a Simple ATM or go to a branch to deposit cash, funding your Simple account can be a little more tedious. You can transfer money to your Simple account from a linked bank account, or you can have your paycheck deposited into your Simple account via direct deposit
Out of Network ATMs: Unlike other online-only banks, Simple does not reimburse any ATM fees charged by banks outside its network. This means if you don't use an ATM in Simple's network to withdraw money, then you'll be responsible for covering any fees charged by that particular financial institution for using its ATMs.
References
Writer Bio
Tara Thomas is a Los Angeles-based writer and avid world traveler. Her articles appear in various online publications, including Sapling, PocketSense, Zacks, Livestrong, Modern Mom and SF Gate. Thomas has a Bachelor of Science in marine biology from California State University, Long Beach and spent 10 years as a mortgage consultant.