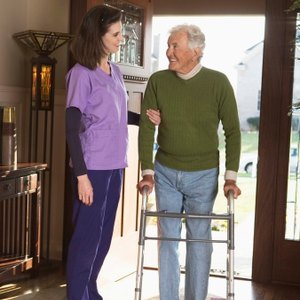 •••
Jupiterimages/Brand X Pictures/Getty Images
Families have individual needs, so respite care services often cater to each family receiving care. Respite provides short-term relief to family caregivers, giving them opportunities to enjoy a break from their daily care routines. In Arizona, respite care workers must be legal residents, of legal age and properly trained on the job. You do not need a college degree but must be able to pass a background check.
Look for agencies or providers that provide respite care to people with disabilities, chronic illnesses or are otherwise homebound. Use the National Respite Locator provided in references as a start.
Go to the provider's primary office and ask for a respite care worker's application. In order to work as a respite care provider, you must be at least 18 years old, have your GED or high school diploma and a government issued picture identification card. Most agencies ask for work and personal references to get an idea of your personality, reliability, integrity and ability to care for others. Caregivers often have to lift, transfer or reposition their clients, so you need to be able to lift a certain amount of weight and have a good back. If you intend to transport your clients you need a valid Arizona driver's license and current insurance on your vehicle.
Accept the job and follow all new-hire policies to ensure you are safely able to provide the correct services to each client you serve. When you provide services to a vulnerable population, it is important that you are comfortable and knowledgeable with each aspect of the job, whether it is assisting your client to the restroom, bathing him or helping him with his medication. Following all new-hire policies keeps you on your training schedule and helps make your transition from trainee to employee timely and smooth.
Get fingerprinted at the appointed time and place. This is often scheduled by the hiring company, and is required by Arizona law to complete a criminal background check. This helps keep criminals and people with questionable backgrounds out of the homes of vulnerable individuals. Complete your CPR and first aid training, along with any other mandatory training specific to your agency or clients. The hiring agency will provide your training, whether it is through them or an outside provider. Your manager will tell you when and where the training takes place. Additional training may include, but not be limited to safe transfer practices, classes regarding vulnerable children and adults, abuse and neglect awareness, dispensing medications, behavior modification and management techniques and injury reporting. You do not need any special licensing, but may receive certification from some of your training classes.
You need to be at least 18 years old to be a respite care worker in Arizona.

You cannot work as a direct care provider if you have a criminal history.

You may be required to have a TB test. Most companies provide this free to their employees.
References
Resources
Writer Bio
Jennifer Erchul has been a freelance writer since 2002. Writing primarily about family and travel, her work has appeared in the "Idaho State Journal," "Portnuef Valley Parents Magazine" and "Western Flyfisher." She writes for numerous websites and is a published author. Erchul studied English and psychology at Concordia College in Moorhead, Minn.