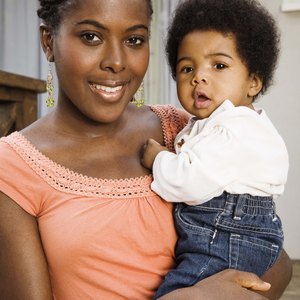 •••
Jupiterimages/Brand X Pictures/Getty Images
In 2011, the average cost of raising a child from birth to the age of 17 was $234,900, according to the U.S. Department of Agriculture's "Expenditures on Children by Families" report. For young mothers, this number may be an eye-opener. Basic budgeting skills can help young mothers understand the financial hurdles that lie ahead and allow them to develop a plan to meet the challenges of parenthood.
Budget Basics
As a practical matter, budgeting is an exercise in financial fitness. A budget allows individuals and families the opportunity to assess finances and set goals for the future. Effective budgeting requires listing any source of income, such as wages from employment, and all expenses. While fixed expenses, such as rent and Internet access, are predictable, variable expenses, such as groceries and gas, may require an estimate. Once complete, a budget provides an honest look at where income goes. More important, a budget can tell you if you make enough to cover your current expenses and can help you identify where cuts need to be made. Creating a basic budget now can provide young mothers with a solid foundation for further adjustments as details involving income and expenses change over time.
Parenting Expenses
For young mothers, successful budgeting and financial survival requires evaluating the needs children have at various stages of growth, anticipating expenses before they are necessary and planning accordingly. This is where talking with other parents and doing some research can pay off. The Department of Agriculture's "Expenditures on Children by Families" report is just one helpful source for young mothers looking to get an accurate estimation of current and forthcoming child-related expenses. The report provides a look into the annual costs of raising children and breaks down annual expenses related to housing, food, clothing, health care, transportation and education by family income and age of child. Dividing the annual estimates by 12 can provide young mothers with monthly expense estimations for budgeting purposes.
Planning
Creating a budget and making any necessary adjustments based on monthly expense estimates will ultimately allow young mothers the opportunity to plan ahead and stay on track financially. Planning involves identifying budgetary problems and making the necessary adjustments to ensure monthly expenses are covered. For young mothers, this includes eliminating unnecessary expenses and finding ways to reduce the amount spent on necessary expenses. Using coupons, shopping at secondhand stores and borrowing unused items, such as a changing table or booster seat, from friends and family are just a few ways to save money.
Getting Help
For young mothers, it's important to understand that help is available to help them meet the financial needs of their family. Government programs ranging from the Supplemental Nutrition Assistance Program (SNAP) and Women, Infants, and Children (WIC) to Temporary Assistance for Needy Families (TANF) help families bridge the financial gap. Information related to government assistance programs can be found by visiting or contacting your local job and family services' office. In addition, local churches and food banks can provide information about the availability of additional help for area families.
References
Writer Bio
Nicole Long is a freelance writer based in Cincinnati, Ohio. With experience in management and customer service, business is a primary focus of her writing. Long also has education and experience in the fields of sports medicine, first aid and coaching. She earned her Bachelor of Arts degree in economics from the University of Cincinnati.