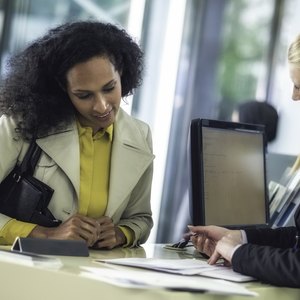 Stiff penalties await bad check writers in Massachusetts. Unlike its neighbors, Massachusetts allows just two days to make good on a check, which can be treated as legal proof that its writer knew there were insufficient funds to cover the amount. Depending on whether the amount is over or under $250, penalties can range from one year of county jail time to five years in prison. Civil fines of $100 to $500 are also possible.
Definition of a Bad Check
Passing, delivering or writing a bad check is considered a larceny under Chapter 266, Section 37 of the Massachusetts General Laws, according to defense attorney Stephen Neyman. Under the law, the bad check is sufficient evidence of intent to defraud. Local district attorneys must show the offender wrote the bad check; received goods or services for doing so and planned to defraud the receiver, knowing there were insufficient funds to cover the amount.
Serious Criminal Penalties
Massachusetts law only allows two days to make good on the check after the offender receives an oral or written non-sufficient funds notice from the bank. If no action is forthcoming, a criminal case can go ahead, according to Neyman. Amounts of $250 or less are misdemeanors that carry penalties of a year in jail. Amounts of $250 or more are considered felonies, and are punishable by up to five years in prison.
The Recipient Can Sue You
Chapter 93, Section 40 of the Massachusetts General Laws outlines the relevant civil penalties in bad check cases. Businesses can pursue a civil suit to recover the check's full value, notes Neyman. Civil fines of $100 to $500 may be imposed as well. The Massachusetts Department of Revenue may assess a $30 penalty or request the actual payment amount, whichever is lesser, according to its website.
Jury Instructions
Failure to make a bounced check good brings additional consequences in the courtroom, according to Neyman. If the district attorney shows that a notice went out and the offender did not respond, the jury can be instructed to see such actions as proof of insufficient funds and intent to defraud. Having a jury instructed in this way can prove damaging to a successful defense, according to Neyman.
Notable Bad Check Cases
Often criticized for their enforcement policies, prosecutors respond that bad check crimes can escalate to more serious offenses. In August 2007, a grand jury issued a 52-count indictment against an Ohio businessman who abruptly closed 13 fast food restaurants in western Massachusetts, yet issued bad checks to employees, the Amherst Bulletin reports. More than 100 employees filed complaints with the Massachusetts Attorney General's Fair Labor Division, which prompted the investigation.
References
Writer Bio
Ralph Heibutzki's articles have appeared in the "All Music Guide," "Goldmine," "Guitar Player" and "Vintage Guitar." He is also the author of "Unfinished Business: The Life & Times Of Danny Gatton," and holds a journalism degree from Michigan State University.