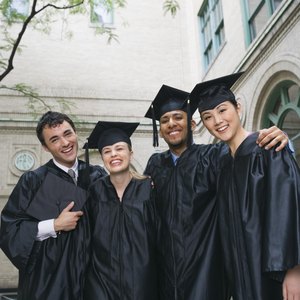 •••
Creatas Images/Creatas/Getty Images
If you have been out of college for a while, the process of returning may seem challenging. But it is not as hard as you may think. Once you make the decision about the type of school you want to attend, you will want to consider how to pay for your education and complete the application process. These decisions can be made in a logical order.
Online or Classroom
One of the first decisions to make is whether to return to a traditional classroom or complete your classes online. Both have benefits. If you take brick and mortar classes, you are more likely to develop friendships with other students. It also may be easier to ask questions of your professor. Online classes often offer flexibility, which can be important if you are still working full-time. According to "The New York Times," there are even some hybrid schools that blend online instruction with face-to-face classes.
Testing
If you plan to attend a community college you will not need to take a test to get in. However, most four-year colleges and universities will require you to take the Scholastic Achievement Test, also known at the SAT, or the American College Testing, the ACT. These tests are administered periodically, and you must sign up for them in advance. There are practice tests available for both the SAT and ACT.
Find the Finances
Once you're sure that it makes financial sense to return to college, you need to decide where the money will come from. Many students will take out an educational loan, but some students do self-finance. If you are currently employed, you may also want to check with your employer to see if they offer any tuition reimbursement. Members of the military also may qualify for assistance. Also, don't forget scholarships and grants.
Transcripts
Most schools will require you to send past transcripts when you apply. This is a must if you want to receive any credit for the classes you have already completed. To do this, contact your old school. Schools should have this information on their websites. You may be able to have your transcripts sent online or you may need to send a letter.
Application Procedures
You will need to fill out an application for each school you wish to attend. Applications will ask for basic information and will usually ask you to write some kind of essay explaining why you wish to attend the college, or describing an important event in your life. In addition, many schools will require up to three written references. These should be from people who are able to judge your qualifications for college, such as former teachers or employers. There are fees for each college application.
References
Writer Bio
Joy Dora has been writing since 2001 and has a master of fine arts in creative writing. She has worked as a copywriter for many prominent online brands, and has also taught college composition and high school English.