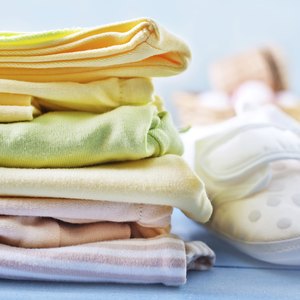 •••
tycoon751/iStock/Getty Images
Some people take it for granted that every family is able to provide basic items for their babies, such as clothing, blankets and bottles. In addition to financial support, many families need assistance obtaining baby supplies and food for their babies. Fortunately, some organizations provide assistance to low-income families through agencies, such as the department of health and human services or pregnancy-related programs. If you need to find resources that offer free baby items, there are resources available in your local community.
Contact your county health department or department of health and human services and request to speak with a maternal support services agent. Ask if the agency offers free baby products for low-income families. Some agencies provide this service to mothers who receive Medicaid, which is a form of medical insurance for low-income families.
Get a referral. Agents may also be able to refer you to other community resources that can help with items, such as cribs, bassinets and other baby furniture.
Call the local pregnancy center. This resource provides a variety of services to new and expectant mothers. Most centers offer clothing for the mother and child, diapers, baby formula, bottles, bibs and other helpful items.
Investigate if you meet the agency's income requirements and provide financial documentation to support your need for services. You might also be required to read or watch educational videos before you receive your baby package.
Get a free car seat. Some agencies work collaboratively with local hospitals and county health departments to provide free car seats to low-income families. You might be required to attend safety classes and be a Medicaid, WIC, Food and Nutrition services (formerly known as food stamps) or other social services recipient.
Complete an application for the Women, Infants and Children (WIC) program. This low-income-based program provides eligible women and children with vouchers that can be exchanged at authorized food retailers for free baby food, formula, milk, cheese and fruits and vegetables. The agency also provides breastfeeding support and supplies.
To find agencies who serve low-income families, look in the "Blue" pages section of your local phone book, which usually lists local and state government organizations.
Resources
Writer Bio
Jalisa Summerville is a social worker and former high school occupational English teacher who began writing in 2006. She has written grants for nonprofit organizations serving underprivileged children. Summerville holds a Master of Social Work from East Carolina University.